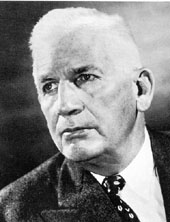 Paul Howard Douglas (March 26, 1892-September 24, 1976), a prominent Quaker and Unitarian United States Senator and economist, fought for civil rights, truth in lending, and conservation. By precept and example he promoted honesty and integrity in public office.
Born in Salem, Massachusetts, Paul was the younger son of James Howard and Annie Smith Douglas. James Douglas was a traveling salesman. Paul's mother died when he was four. His father remarried, but proved an abusive husband. Prior to an eventual divorce, his stepmother, Florence Young, cared for her two step-sons in Maine. Paul would later write of her love and appreciation of boys not her own.
Paul grew up in the Maine woods, played basketball in high school and football in college, and began his lifetime love of reading.
Paul graduated from Bowdoin College in 1913. He then studied economics at Columbia University, earning an M.A., 1915, and a Ph.D., 1921. In 1915 he married Dorothy Wolff, who also earned a Ph.D. from Columbia. Both were social reformers. His family had been poor and Episcopalian; Dorothy's wealthy and Jewish. They planned for a large family, contributions to social causes, and two academic careers.
For the first six years of their marriage, the Douglases moved each year. Paul studied at Harvard 1915-16; taught at the University of Illinois, 1916-17; taught at Reed College in Oregon, 1917-18, was labor mediator for the Emergency Fleet Corporation, 1918-19; taught at the University of Washington, 1919-20; and finally, in 1920, began teaching economics at the University of Chicago.
The Emergency Fleet Corporation was set up under the United States Shipping Board to build up U. S. shipping to provide "a bridge to France" to supply troops and supplies to France during World War I. While working for the Emergency Fleet Corporation, living in Bryn Mawr, Pennsylvania, Douglas read John Woolman's journal and decided to become a Quaker. Paul joined Seattle Meeting in 1920. The next year he transferred to Chicago Meeting, and in 1931 he was a leading organizer of the 57th Street Meeting of Friends, which in its early years met in the building of the First Unitarian Church.
Douglas thrived at the university, teaching economics and writing a book every two years. He got to know the legendary Jane Addams of Hull House. She inspired his later battles against corruption and for social reform.
Chicago was less thrilling for Dorothy Douglas. The University of Chicago's nepotism rules allowed no hiring of faculty wives, even those with doctorates. In 1924 when she got a job at Smith College in Northampton, Massachusetts, she convinced Paul to teach at nearby Amherst College. He stayed at Amherst for a few years, but then returned to the University of Chicago. The Douglases were divorced in 1930. Dorothy took responsibility for the care of their four children, Helen, John, Dorothea, and Paul.
In 1931, Paul remarried. His second wife, Emily Taft (Douglas), had strong roots in Chicago. Fifth cousin, once removed, of Unitarian President William Howard Taft, she was born in Chicago and graduated from the University of Chicago, 1919.
In the late 20s, and throughout the 30s, Douglas was active on public issues, but not closely allied with any particular political party. He advised Republican Governor Gifford Pinchot of Pennsylvania and Democratic Governor Franklin Delano Roosevelt of New York and supported Socialist party candidate Norman Thomas in the 1932 presidential election. Overall he found the Democrats too corrupt, the Republicans too backward, and the Socialists too ideological.
In his 1932 book, The Coming of a New Party, Douglas promoted the creation of a party similar to the Labour party in Great Britain. He never joined the Socialist Party, however, because he disliked monopolies, even those of the government. Throughout his political career, he worked to make free enterprise truly free, and to curtail monopoly power.
In 1935 Douglas made his first attempt at elective office. He sought the Republican party endorsement for mayor of Chicago. Although not nominated he did support Republican Joseph Artman for alderman that year. In 1939 Douglas belonged to a group of independents looking for a challenger to Democrat incumbent alderman James Cusack. Douglas became their candidate. With unexpected support from the Democratic Mayor Ed Kelly, he won. As the post was part-time, he kept his job at the university.
In 1942 Alderman Douglas campaigned for the Democratic party nomination for the United States Senate and the right to challenge isolationist Republican incumbent Senator C. Wayland Brooks. With the support of downstate and liberal activists, he carried almost every county in the state, but because of a strong Chicago/Cook County vote for his opponent, Congressman Raymond S. McKeough, he lost the primary.
Weeks after the primary, Douglas joined the United States Marines. As he was 50 years old and a full professor at the University of Chicago, he was a natural candidate for a desk job at the Pentagon. But he wanted combat. With the help of his friend, Secretary of the Navy Frank Knox and Knox's aide Adlai Stevenson, Douglas was assigned to the First Marine Division and sent to the Pacific. A wound he suffered at Okinawa resulted in his left forearm becoming what he termed "a paperweight."
The 57th Street Meeting of Friends several times discussed whether Douglas, who violated Quaker doctrine by fighting with the marines, should be expelled. He never was.
In 1944, as Paul was fighting in the Pacific, Emily Douglas was elected to a term in Congress as representative at large from Illinois. In 1946, as he was recovering from his war wounds, she was defeated for re-election. Discharged by the Marines late in 1946, Douglas returned to the University of Chicago. In 1947 he served as President of the American Economic Association, but Paul was restless at Chicago, and interested in running for senator or governor in 1948.
In 1948 Douglas was slated by Democratic party leaders to run for the Senate against Brooks. Brooks, a formidable candidate, was proud of his "patriotism", having been wounded by shrapnel in the back, when with the marines in France in WW I. Stevenson wanted the Senate nomination, but when Cook County chairman Jacob M. Arvey saw Douglas in uniform with his "paperweight" left arm, he thought: "that will neutralize Brooks." When Brooks refused to debate, Douglas debated him anyway, providing an empty chair and taking Brooks's side as well as his own. Brooks might have been represented better by being there. Douglas recalled that "Brook's replies, as I delivered them, never seemed to have the cogency and force of my attacks." Douglas received 55% of the total vote, defeating Brooks by more than 407,000.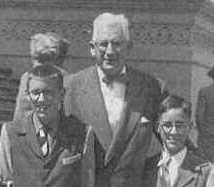 In his inner office Douglas displayed photographs of six of his heroes. Only one of them was a fellow Democrat, John Peter Altgeld, the Illinois governor who courageously pardoned the Haymarket "rioters." Three were Republicans: Abraham Lincoln, George Norris of Nebraska, and Robert LaFollette, Sr., of Wisconsin. One, Jane Addams, was a Socialist. The other was the humanist attorney Clarence Darrow. These heroes inspired Douglas to be a persistent, independent, and principled senator. Under these influences, he tried to build coalitions and worked to develop support both inside the Senate and from sympathetic groups in the country at large.
Douglas was a fighter who lost many battles, but won his wars. When he came to Washington, in 1949, all restaurants and hotels there were off limits for blacks. The public schools in Washington, D.C., and throughout the South, offered separate and unequal education. Douglas made it his mission to get civil rights legislation passed by a senate which, for the previous seventy years, had buried anything to do with civil rights. The primary civil rights bills were the Civil Rights Act of 1964, dealing with public accommodations, and the Voting Rights Act of 1965. The 1964 act empowered the Department of Justice to do enforcement. The 1965 Voting Rights Act provided for Federal marshals and registrars, as necessary, to register voters the South. Douglas had seen these needs as early as 1960, and was instrumental in getting the needed enforcement provisions included.
Douglas regularly stated his assets, his sources of income, and his liabilities, well before these were required by law. He returned special gifts over a set low monetary value. He donated perishable items to veterans' hospitals. These rules applied also to his staff. Douglas's 1952 Godkin lectures at Harvard, Ethics in Government, provided a foundation for later legislation relating to the fiscal accountability of public officials, elected and appointed.
Some of Douglas's leadership as a senator built on his knowledge of economics. For example, he supported "truth in lending," legislation requiring lending institutions to state loan percentages in the consistent terms (annual percentage rate). Douglas introduced the bill and fought for it for years. Although bottled up in committee by the chairman of the banking committee, Sen. A. Willis Robertson, the bill was eventually passed—but only after both Robertson and Douglas were no longer in the Senate.
An ardent conservationist, before environmental protection was popular, Douglas led the fight in Congress to save the Indiana Dunes from the steel companies.
In the 1950s the Douglases attended All Souls Unitarian Church in Washington, D.C., largely because A. Powell Davies was the minister. Emily joined in 1950, and later became moderator of the American Unitarian Association. Paul joined All Souls in 1955, while retaining his membership in the 57th Street Meeting of Friends. In 1965 Paul and Emily moved their attendance to Cedar Lane Unitarian Church, in Bethesda, Maryland, near their home in northwest Washington, D.C.
In his autobiography, In the Fullness of Time, Douglas tells of a conversation on religion with a Catholic, his one-time Senate colleague, President John F. Kennedy: "He knew me to be one of a tiny religious group who were both Quakers and Unitarians. One day he asked quizzically if it was true that I did not believe in the Trinity. I replied that it was, since I had never known of a satisfactory description of the Holy Ghost as a separate being. There was a momentary silence, and a slight flicker in one eye, a distant cousin to a wink, before he asked urbanely, 'Isn't that going pretty far, Paul?'"
Douglas served for eighteen years in the Senate, winning re-election in 1954 and 1960, but in 1966 losing to liberal Republican Charles Percy. After his defeat, Douglas campaigned in his friend Hubert Humphrey's bid for President in 1968, and again wrote books, including his autobiography. In the early 1970s he had a stroke and died in 1976. Private services were held at a Quaker meeting house. His ashes were scattered in the Japanese gardens at Jackson Park, near the University of Chicago.
The archives of Paul H. Douglas are in the Chicago Historical Society, Chicago, Illinois. Douglas wrote articles for economic and political journals and general magazines, including American Economic Review, New Republic, Atlantic Monthly, and the New York Times Magazine. Douglas's books are The Worker in Modern Economic Society (1923), Wages and the Family (1925), Real Wages in the United States, 1890-1926 (1930), The Problem of Unemployment (1931), The Making of a New Party (1932), Standards of Unemployment Insurance (1933), The Theory of Wages (1934), Controlling Depressions (1935), Social Security in the United States (1936), Ethics in Government (1952), Economy in the National Government (1952), In Our Time (1967), and his autobiography, In the Fullness of Time (1971).
A recent biography of Douglas is Roger Biles, Crusading Liberal, Paul H. Douglas of Illinois (2002). Information on Douglas can also be found in John Bartlow Martin, Adlai Stevenson of Illinois (1976) and Robert A. Caro, Master of the Senate (2002). For Douglas's Quaker connections see History of 57th Street Meeting of Friends, 1931-1956 (1957) and membership records of the Seattle Meeting of Friends. The author also consulted his own family records; Douglas C. Anderson, of the First Unitarian Church of Chicago and son of the late Douglas B. Anderson, who ran the Chicago office for Senator Douglas for 18 years; Saundra Asante and Molly Freeman, of All Souls Unitarian Church, Washington, DC; Jean Taft Douglas Bandler, daughter of Paul Howard and Emily Taft Douglas; Leon M. and Marion A. Despres, Chicago, Illinois (Leon Despres was Hyde Park (Chicago) alderman, 1955-75); Richard Henry, Unitarian minister; Friends Memorial Church, Seattle, Washington; Daniel Horowitz, Smith College, Northampton, Massachusetts; Robert O. Keohane, Duke University, Durham, North Carolina; and Sabron Newton, member of the Society of Friends, Whittier, California. See also John Keohane, "Paul H. Douglas," at bowdoin.edu/economics.
Article by John Keohane
Posted on September 3, 2003