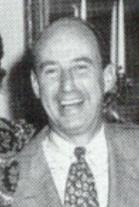 Adlai Ewing Stevenson (February 5, 1900-July 14, 1965), politician and diplomat, was twice the Democratic Party's candidate for President of the United States. He brought a freshness, a depth, passion, wit and vision to American politics and to international diplomatic discourse, that illumined an era. Many considered him one of the greatest political orators of his time, second only to Winston Churchill.
His paternal grandfather, Adlai Stevenson, Vice President under Grover Cleveland, and his great grandfather, Jesse W. Fell, a prominent Quaker from Pennsylvania who first suggested Lincoln for the Presidency, were doubtless inspiration for his own life in public service. Stevenson once said, "I have a bad case of hereditary politics."
A Princeton University graduate, he attended Harvard and Northwestern University law schools and, in 1927, joined a law firm in Chicago, Illinois. Stevenson spent 1933-34 in Washington, D.C. where he was counsel to the Agricultural Adjustment Administration of Franklin D. Roosevelt's "New Deal." He returned to Washington, from 1941-44, to serve as special assistant and personal counsel to Secretary of the Navy Frank Knox.
In 1945, as special assistant to Secretary of State Stettinius, Stevenson helped formulate the preparatory documents for the United Nations Organization. Following the San Francisco Conference, at which he was in charge of handling the press, he became Chief of the United States delegation to the United Nations Preparatory Commission. Subsequently, he was senior advisor to the United States delegation, headed by Secretary of State James F. Byrnes, at the General Assembly's first meeting in London. President Truman appointed him a delegate to the General Assembly in 1946 and 1947.
In 1948 he was elected Governor of Illinois by the largest plurality in the State's history. In his one term he was credited by both business and labor with cleaning up much of the corruption which had dominated Illinois politics. A brilliant administrator, he was capable of winning the confidence and collaboration of people of radically divergent convictions on behalf of the public weal.
His twenty-one-year marriage to Ellen Borden ended with divorce in 1949. The couple had three sons: Adlai III, Borden, and John Fell. Stevenson did not remarry.
Following his term as Governor he was drafted by the Democratic National Committee to run for President against the popular war hero General Dwight D. Eisenhower. Many considered Stevenson's reluctance to run grounds for doubting his ability to be decisive. At the convention, however, he gave two memorable speeches about which columnist Mary McGrory later wrote, "Politically speaking, it was the Christmas morning of our lives." In his acceptance speech Stevenson appealed to those with an idealistic and sacrificial spirit. "Let's talk sense to the American people," he said. "Let's tell them the truth, that there are no gains without pains, that we are now on the eve of great decisions, not easy decisions, like resistance when you are attacked, but a long patient, costly struggle which alone can assure triumph over the great enemies of man-war, poverty, and tyranny-and the assaults upon human dignity which are the most grievous consequences of each."
After he lost the 1952 election many people who voted against him wrote Stevenson letters expressing admiration for him. Again the Democratic Party's nominee for President in 1956, he received the largest popular vote of any losing candidate in American history. When in 1961 Dana McLean Greeley was elected first President of the Unitarian Universalist Association, Adlai Stevenson sent him this note: "Congratulations on your election as president. I know from hearsay how satisfying that can be."
In 1961 President John F. Kennedy appointed him Ambassador to the United Nations, in which post he died, July 14, 1965, on the steps of the United States Embassy in London. President Lyndon Johnson and other national and international notables attended the memorial service for him held in the Unitarian Church of Bloomington, July 19, 1965. In the eulogy, Dana McLean Greeley said: "He was not just an American, or only a Democrat, or exclusively a Unitarian or solely an ambassador. He was also a universal citizen." Burial was in Evergreen Cemetery, his gravestone a granite slab in the shape of the United Nations General Assembly building in New York.
Stevenson's great grandfather, Jesse Fell, was the principal founder of the Unitarian church in Bloomington, Illinois in 1859. He also recruited the first minister, Gordon Ames. At the 80th anniversary celebration of the church, Stevenson, the featured speaker, recalled that his Presbyterian father sometimes urged him to go to Second Presbyterian Church on Sunday, but that always "as usual we went to the Unitarian Church!" In spite of his father's many relations who were Presbyterian ministers, Stevenson claimed that his "earliest recollections are uniformly Unitarian." He signed the membership book of the Bloomington Unitarian Church in 1952. "My mother was a Republican and a Unitarian, my father was a Democrat and a Presbyterian, Stevenson once explained. "I wound up in his party and her church, which seemed an expedient solution to the problem."
In 1955, Stevenson also signed the roll of the Second Presbyterian Church of Lake Forest, Illinois, there being no Unitarian church in that city. A political dust-up ensued and four clergy representing the two denominations signed a public statement disavowing the charge that his so doing was politically motivated, noting that while he was Governor of Illinois, he had frequently attended the Presbyterian church in Springfield where there was likewise no Unitarian church. Stevenson's version of liberal religion was sufficiently broad that he apparently thought it proper to support both his mother's and his father's churches. He later attributed his "insulation from any religious feeling of partisanship or religious prejudice" to "the liberal influence of the Unitarian church on me from my infancy."
Stevenson considered his religious faith a formative influence in his world view, having provided him, among other insights, an appreciation for compromise and the value of differences. In a letter to Senator Maurine Neuberger he wrote that "the power of the liberal way" consisted "in helping ourselves and others to see some of the possibilities inherent in viewpoints other than one's own." On the 90th anniversary of its founding, Stevenson told the Unitarian Church of Bloomington, Illinois: "If a liberal wishes to win friends and influence people (and what liberal doesn't?), then one thing he cannot afford is the luxury of dogmatism." "Our reasonableness," he went on to say, "must always be motivated by the urge to learn, to share and to find common ground." His faith informed both his public utterances and his efforts on behalf of a more peaceful world.
He worried about the "rents and tears across the entire fabric of human affairs caused by the constant vendettas carried on by competing faiths." Stevenson believed "that if we really want human brotherhood to spread and increase until it makes life safe and sane, we must also be certain that there is no one true faith or path by which it may spread." He thought that the "basic faith in liberty of conscience . . . is, in fact, our bond of unity with all free men."
His simple but eloquent prose, coupled with a wit that could wilt opponents, defused many a heated controversy. He vetoed a bill that would have restricted the freedom of Illinois cats, declaring, "To escort a cat abroad on a leash is against the nature of the owner. . . . The problem of the cat vs. the bird is as old as time. If we attempt to resolve it by legislation, who knows but what we may be called upon to take sides as well in the age-old problems of dog vs. cat, bird vs. bird, or even bird vs. worm. In my opinion, the State of Illinois and its local governing bodies already have enough to do without trying to control feline delinquency."
He was passionate about democracy as the most generous form of government and about the United Nations as "our only ultimate shield against disastrous war." "Man in his civil society," he said, "has learned how to live under the law with the institutions of justice, and with a controlled strength that can protect rich and poor, weak and strong alike." Stevenson reasoned that what worked for individuals might also be made to work for nations. "In this century, for the first time in human history, we are attempting the same safeguards, the same framework of justice, the same sense of law and impartial protection in the whole wide society of man." He described this program as the "audacious meaning of the United Nations." "Either we shall make it grow and flourish," he warned, "or I do not know what power or institution can save us."
Words Stevenson spoke at a memorial service for Winston Churchill January 28, 1965, at Washington's National Cathedral, can serve as his own epitaph as well: "We shall hear no longer the remembered eloquence and wit, the old courage and defiance, the robust serenity of indomitable faith. Our world is thus poorer, our political dialogue is diminished and the sources of public inspiration run more thinly for all of us. There is a lonesome place against the sky."
The Adlai Stevenson papers are at the Seeley G. Mudd Library at Princeton University, in Princeton, New Jersey. His gubernatorial papers are kept at the Illinois State Historical Library in Springfield, Illinois. A selection of his letters and speeches has been published in eight volumes as The Papers of Adlai E. Stevenson (1972-79), edited by Walter Johnson. Several smaller anthologies were published while Stevenson was alive or shortly after his death. One such is The Stevenson Wit and Wisdom, edited by Paul Steiner (1968). All of Stevenson's own books were collections of speeches and articles. They include Speeches of Adlai Stevenson (1952), Major Campaign Speeches of Adlai Stevenson: 1952 (1953), Call to Greatness (1954), What I Think (1956), The New America (1957), Friends and Enemies: What I Learned in Russia (1959), Putting First Things First (1960), and Looking Outward: Years of Crisis at the United Nations (1963). Additional Stevenson works were gathered and edited by Michael H. Prosser as An Ethic for Survival (1969).
A speech to Unitarians, "Liberalism Versus Competitive Indoctrination," address by The Honorable Adlai E. Stevenson, Governor, The State of Illinois, at the Ninetieth Anniversary Service of the Unitarian Church of Bloomington, Illinois, Sunday, October 30, 1949, is preserved in pamphlet form. A tape recording of informal remarks delivered to the Fellowship Dinner of the First Unitarian Society of Denver, Colorado, held at the University of Denver on October 3, 1960, is in the author's possession.
The standard biography of Stevenson is John Bartlow Martin's Adlai Stevenson of Illinois (1976). Other more recent biographies include Porter McKeever, Adlai Stevenson: His Life and Legacy (1989); Jeff Broadwater, Adlai Stevenson and American Politics: The Odyssey of a Cold War Liberal (1994); and Jean H. Baker, The Stevensons: A Biography of an American Family (1996). Greeley's eulogy is in Adlai Ewing Stevenson, 1900/1965, The Services at Bloomington, July 19, 1965, published by the Unitarian Universalist Association (n.d.).
Article by Richard Henry
Posted January 11, 2001