Emily Taft Douglas (April 19, 1899-January 28, 1994) was a congresswoman, civil rights activist, early feminist, actress, author, and Unitarian lay leader. Throughout her life she promoted international cooperation for the preservation of peace and for democratic cultural exchange.
Born in Chicago, Illinois, Emily was the second of three daughters of Lorado and Ada (Bartlett) Taft, a granddaughter of Don Carlos Taft, and a distant cousin of President William Howard Taft. Don Carlos Taft was a professor of geology at the University of Illinois. Lorado Taft was a prominent artist and teacher, best known for having created monumental sculptures, including the Fountain of the Great Lakes and the Fountain of Time in Chicago, Black Hawk in Oregon, Illinois and the Columbus Fountain at Union Station in Washington, D.C. As a child Emily often travelled with her family in Europe. She graduated from the University of Chicago's Laboratory Schools and then the University of Chicago, earning her Bachelor of Philosophy degree, 1919, from the College of Literature, with honors in French.
During World War I Lorado Taft was a member of the League to Enforce Peace. His daughter Emily was influenced by her father and also impressed with President Woodrow Wilson's plans for the League of Nations. When Wilson died, she told herself, "If there's anything I can do to forward the things he stood for, I'm his man."
Emily spent her first working years in theater. After studying at the American Academy of Dramatic Art she had a starring role in the road company production of the haunted house thriller, The Cat and the Canary, 1922-24. Afterwards she returned to Chicago and joined the staff of the Illinois League of Women Voters as a statewide organizer.
In 1931 Emily married University of Chicago economics professor Paul H. Douglas, with whom she shared an interest in social reform. They had one daughter, Jean Taft Douglas (Bandler), born in 1933.
In 1935, while Emily and Paul Douglas were on vacation in Rome, the Italian dictator Mussolini announced the invasion of Ethiopia. "It came crystal clear to us then and there," she later recalled, "that if Hitler and Mussolini and the forces they represented were not stopped, the whole world would be engulfed." When they returned to Chicago the Douglases began to warn their friends and fellow citizens of the approaching danger.
While her husband entered city and state politics Douglas volunteered for and served as Secretary of the Illinois League of Women Voters. She organized and chaired the ILWV department of government and foreign policy. In 1942, when her husband enlisted in the Marines, she became executive secretary of Chicago's International Relations Center.
In 1944, while her husband was in the Pacific, Douglas ran as a Democrat for Representative at-large, representing the entire state of Illinois in the Congress, and defeated the isolationist incumbent, Stephen Day. She represented almost eight million people and was the second woman ever elected to represent so large a number (Caroline O'Day, elected at-large to the House from New York in 1934, was the first). The first time she spoke in the House she was recognized as "the Gentleman from Illinois."
Douglas served on the House Foreign Affairs Committee. She shepherded bills through the House authorizing the United Nations Relief and Rehabilitation Administration and co-sponsored legislation to put the United Nations in charge of arms control and the abolition of atomic weapons. As a Representative specially interested in foreign policy, she emphasized the importance of "the will to get along with the other nations" and "the doctrine of collective security as a bulwark against another war and chaos."
Douglas voted against the creation of a standing House Un-American Activities Committee, promoted the draft of nurses into the armed forces, and co-sponsored a bill to fund a program of rural bookmobiles. The bookmobile bill was one of her proudest achievements. Douglas lost in her bid for re-election in 1946. The Republican sweep in these mid-term elections was based upon campaigns to end price controls and to "bring the boys home." Concerned for postwar international security, Douglas had opposed immediate demobilization.
In 1948 Paul Douglas was elected as the United States Senator from Illinois, an office he held until 1967. Emily campaigned for her husband, acted as his everyday political advisor and—because his arm had been wounded at Okinawa—drove him to work nearly every day. She organized and directed her husband's monthly radio and television broadcasts to his Illinois constituents. She often talked at political rallies, civic forums and women's groups. In his autobiography Sen. Douglas wrote that, "Emily combines idealism with a woman's sense of caution, and integrity with a politician's sense of timing, qualities that have saved me from many mistakes."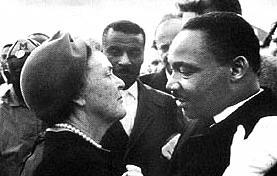 In 1951 Douglas served as a United States representative to a conference of the United Nations Educational, Scientific and Cultural Organization. In 1965 Douglas joined Martin Luther King, Jr. on the march for African-American voting rights in Selma, Alabama. She later thought this was one of the best things she ever did in her life.
Douglas's third career was as a writer. She published several books, including a popular children's story, Appleseed Farm, 1948; a collection of essays, Remember the Ladies: The Story of the Women Who Helped Shape America, 1966; and a biography of the founder of Planned Parenthood, Margaret Sanger, Pioneer of the Future, 1970. In her stories of women who "opened doors" for those who came afterwards, Douglas undertook to "tell of quiet courage that has never been surpassed" and to "show genius in supplanting old brutalities with humane care."
A religious as well as a political liberal, Douglas was a member of All Souls Unitarian Church, Washington, DC, 1950-65, and later attended Cedar Lane Unitarian Universalist Church in Bethesda, Maryland. Both she and her husband admired the crusading A. Powell Davies, minister of All Souls. Davies encouraged Douglas to become active in denominational work. As a result she joined the Unitarian Fellowship for Social Justice and the Unitarian Woman's Alliance. She held a number of significant denominational offices including Contributing Editor to the Unitarian Register, President of the Unitarian Woman's Alliance, and Moderator of the American Unitarian Association, 1958-60 (the final years of approach to consolidation with the Universalist Church of America). During 1960-66, she was a trustee of Meadville/Lombard Theological School. She was given the 1955 Diamond Jubilee award by the General Alliance of Unitarian and Other Liberal Christian Women.
Muriel Davies, the widow of A. Powell Davies, found Douglas to be an "unforgettable person." When Douglas hosted a party, Davies writes, "They were always parties with a purpose. There would be some current topic she wanted us to discuss and would often have someone make a short speech to introduce it. No idle cocktail party chatter for Emily!"
After his stroke in 1969, Emily took care of her husband and assisted him in writing his autobiography, In the Fullness of Time, 1971. He died in 1976. Emily died in a nursing home in Westchester County, New York nearly two decades later.
Sources
Archives on the League of Women Voters of Illinois containing material about Emily Taft Douglas are kept at the University of Illinois in Chicago. There are short biographies of Douglas in Current Biography 1945 and The Biographical Directory of the United States Congress. Obituaries are in The New York Times (February 1, 1994) and Current Biography 1994. Paul Douglas, In the Fullness of Time (1971) has much about his wife's political career. Her Unitarian activities are outlined in "Nominee for Moderator," Unitarian Register (February 1958). She wrote an article on Thomas Jefferson, "Freedom's Champion," in the Unitarian Register (April 1958).
The author appreciates the help of Jean Douglas Bandler in preparing this article.
Article by John Keohane
Posted July 19, 2002