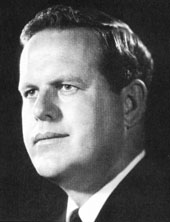 Rhys Williams (February 27, 1929-July 20, 2003), minister of the First Church in Boston for forty years, was a civic leader, active in the establishment and promotion of institutions for education, housing, and the care of the sick and elderly.
Rhys was born in San Francisco, California to Lucita Squier and Albert Rhys Williams. His father had been a Congregationalist minister, as had his Welsh grandfather, but later converted to Unitarianism. A newspaper correspondent and author, Albert Rhys Williams witnessed and participated in the Russian Revolution of 1917. Lucita, an Episcopalian, was a Hollywood screenwriter. Before the birth of their son Albert and Lucita lived and worked in Russia. Rhys inherited some of his parents' fascination with Russia and its people.
During Rhys's early years his family lived in British Columbia and various places in the United States, usually on the West Coast. Among the schools he attended was a boarding school in southern California's Ojai Valley and, on a scholarship, the Vermont Academy from which he received his high school diploma in 1947. Inspired by his uncle, David Rhys Williams, longtime minister of the Rochester, New York Unitarian Church, whose church he had joined in 1946, he decided on a ministerial career. Rev. Williams convinced his nephew to attend St. Lawrence University and its Theological School in Canton, New York.
Under a program then available at St. Lawrence, Williams combined his course work for the A.B, 1951, and the M. Div., 1953. His friend David Pohl wrote that during their university days they debated endlessly about religion and politics. Williams had a student church during his training, the small Universalist congregation in Edwards, fifteen miles outside Canton. When he applied for ministerial fellowship he wrote: "I wish to become a minister because I believe in the total worth of each person, I believe in a force beyond human understanding and the ethical values of Jesus."
Williams first settled at the Unitarian Church in Charleston, South Carolina. He was ordained there in 1954.
Traveling through Europe in 1955 with an international affairs seminar group, Williams met his future wife Eleanor Hoyle Barnhart, a graduate of Goucher College, who had received a Fulbright Fellowship to the Netherlands. They were married in 1956. They had two children, a very close and loving married life, and, as David Pohl observed, made their home the "living embodiment of hospitality." Williams always considered that he and Eleanor were a ministerial team.
In 1960 Williams became the minister of the First Church in Boston. He remained there, in the tradition of earlier Puritan ministers, for forty productive years. He saw his role as caring for his parishioners' emotional and physical needs as well as stimulating and enlarging their thinking about life. In his sermon, "A Meaningful Life amidst Changing Times,"delivered at the 350th anniversary service of First Church in 1980, he said, "Today we face such dramatic changes in attitudes and values that a flood seems to be sweeping over us." Nevertheless, he continued, "we must begin to think and learn in terms of such new adventures as computers, bio industry, alternate sources of energy, and mining of the rich resources of the seabeds. We must stretch our imaginations in literature, art, and music and in organized religion." Every person, he declared, "has the obligation to be a positive force in this era of accelerating change." His wife once aptly observed that Rhys "wanted people not to worry about the next life, but do what they could to make this life better for other people."
One church member explained Williams's style this way: "Seldom would he offer solutions to a group but rather moderated a conclusion acceptable to all concerned. He was wonderful in helping to solve disputes between individuals without overtly identifying with one or the other. At meetings usually he was quiet and observant, speaking and offering information when necessary. In his leadership of the church he was almost unassuming; that he was its head there was no doubt, but he led quietly, with authority and intelligence, strongly emphasizing the human aspect of all activities."
Williams was often called upon to raise money for special projects. As people genuinely liked and trusted him, he proved to be highly successful at this task. To succeed when asking for donations, he explained, you need to be absolutely convinced of the worthiness of the cause and to receive no benefit for yourself.
In 1968 a fire destroyed the church proper. Only the spire, the Berkeley Street façade, and the parish house were saved. Standing in front of the smoking ruins Williams told newspaper reporters, "I've been here since 1960, and a little bit of me has gone up in smoke this morning." The congregation decided to rebuild on the same site and to merge with the smaller Second Church in Boston under the name First and Second Church in Boston. (In 2005 the congregation voted to return to the name First Church.)
The new building, dedicated in 1972, which blended what had been saved from the fire with a contemporary structure designed by modernist architect Paul Rudolph, made possible the expansion of community-oriented projects. The independent John Winthrop School for children ages 2 to 6, started in 1965 by the congregation in response to a need of the immediate community, was allotted more room and able to expand. Neighboring Emerson College, which had used the First Church sanctuary and the chapel for classes before the fire, significantly increased its activities there. Dr. Richard Pierce, an active leader at First Church, was Dean of the College, and Williams was a trustee, 1961-2002, and was for many years its secretary. During the 1980s the Emerson College radio station began to broadcast Sunday services from First Church.
During Williams' pastorate over 60 ministerial interns trained at First Church. One of these was Forrest Church, who went on to become minister of All Souls Unitarian Church in New York City. "I owe," he wrote, "my own ministry to Rhys Williams. Taking me under his wing during my years as a master's and doctoral student, he guided me from the academy to the parish. His direction was so deft that I remained completely unaware of it."
Concerned about the special needs of seniors, in 1965 church members formed the Edward Everett Hale Corporation. The Corporation purchased an assisted living home for older women near the church which had recently closed and acquired the assets of the Frances Mary Barnard Home in Milton, Massachusetts. When Williams retired from ministry, the Hale-Barnard Corporation served the needs of fifty-six residents and sponsored several other programs for senior citizens. Williams was the corporation president from 1987 until his death. He also served on the board of the Peter Faneuil Housing Corporation, 1995-2003, which provided low-cost single-room residences and housing for people with AIDS. Initial funding for this came from the Hale-Barnard Corporation.
Williams was on the board of the Franklin Institute, 1960-2003, which offered technical training to young people. He was a trustee of Opera Boston, 1970-1995, the Franklin Square House, 1993-2003, and chair of the American-Soviet Cultural Exchange's Festival Fund, 1989-91. He was also engaged in the work of the New Horizon Board for Higher Education of Russians in the United States. He belonged to the Massachusetts Historical Society, the Colonial Society of Massachusetts, the Union Club of Boston, and the Ministers' Club of Boston. He was Chaplain, 1977-2003, of The Society of the Cincinnati, headquartered in Washington, D.C.
Williams was elected a Delegate at Large of the Unitarian Universalist Urban Ministry/Benevolent Fraternity of Unitarian Churches in 1961 and remained active in its various social programs for 47 years, serving as its president, 1991-99. He was a member of the Unitarian Universalist Association Ministerial Fellowship Committee, 1961-69, a trustee of the Meadville/Lombard Theological School in Chicago, 1971-77, and president of the Unitarian Universalist Ministerial Association, 1968-70. He was president, 1973-2003, of the Unitarian Service Pension Society; president, 1973-2003, of the Society for Ministerial Relief; president and then vice-president, 1965-2003, of the Evangelical Missionary Society; and vice-president and president, 1975-2003, of the Society for the Propagation of the Gospel among Indians and Others in North America. He was also president, 1960-75, of the Unitarian Historical Society.
St. Lawrence University recognized Williams's ministerial talents by honoring him with a D.D., 1966. Emerson College awarded him an LL.D, 1962.
Rhys and Eleanor Williams traveled the world, visiting Russia several times, seeing the Far East, and exploring Western and Eastern Europe by train. They had a summer home in Maine where Rhys maintained a vegetable garden, climbed mountains, swam in the cold Atlantic, and took his children and grandchildren blueberry and strawberry picking.
Williams retired in 2000. He died a few years later from pancreatic cancer. At the public service held at the church, David Pohl delivered the eulogy. Williams's ashes are interred next to the graves four feet above the coffin of John Cotton, the second minister of First Church, and next to the grave of John Winthrop, the first governor of the Commonwealth, in the plot owned by the Church in The Old Burying Ground next to King's Chapel [MAY 2018 revision: added words in bold].
There is a ministerial file at the Unitarian Universalist Association in Boston, Massachusetts. John Burt has written an account of his life in Rhys Williams, Triumphant Living Sermons from Five Decades Celebrating the Liberal Gospel, ed. Eleanor Williams (2003). Some of his recollections of life with his father are in Corliss Lamont, ed., Albert Rhys Williams: In Memoriam (1962). See also Rhys Williams's "The Future of Man," Russell Lecture, Tufts University (1965) and "A Time to Stress Unity," Minns Lecture (1986). Also useful are Peter Tufts Richardson, The Boston Religion Unitarianism in its Capital City, (2003) and "Rev. Rhys Williams, Helped First Church Rise from Ashes," Boston Globe (July 25, 2003), and Who Was Who in America, v.151. There are obituaries in the UUA Directory 2005, and the UU World (November-December 2003). See also David Pohl, "A Eulogy for Rhys" (September 6, 2005).
Article by Alan Seaburg and Thomas Dahill, Jr.
Posted November 28, 2005