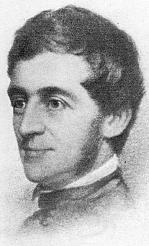 Ralph Waldo Emerson (May 25, 1803-April 27, 1882) began his career as a Unitarian minister but went on, as an independent man of letters, to become the preeminent lecturer, essayist and philosopher of 19th century America. Emerson was a key figure in the "New England Renaissance," as an author and also through association with the Transcendental Club, the Dial and the many writers—notably Henry David Thoreau, Bronson Alcott and Margaret Fuller—who gathered around him at his home in Concord, Massachusetts. Late in life his home was a kind of shrine students and aspiring writers visited, as on a pilgrimage. He and other Transcendentalists did much to open Unitarians and the liberally religious to science, Eastern religions and a naturalistic mysticism.
Waldo was born May 25, 1803, the fourth of eight children. His family—descendants of a number of noteworthy New England ministers—prized education, learning and culture. His father, William Emerson, distinguished minister of First Church, Boston, had drawn his congregation with him into Unitarianism. The family was intimate with the Boston intellectuals of the era, among them William Ellery Channing, George Buckminster, Henry Ware, Sr. and Edward Everett.
His father died when Waldo was eight, leaving the family without financial support. His mother Ruth sold her husband's library (which became the Boston Athenaeum), took in boarders and worked as a maid. They often had not enough to eat. Waldo and his brother Charles had only one overcoat between them. Taunting schoolfellows asked, "Whose turn is it to wear the great-coat today?"
Aunt Mary Moody Emerson, his father's unmarried sister, was the dominant influence of Emerson's childhood and youth. Without formal education, she was possessed of a richly fertile mind. She read widely and knew well the thinkers of the day. A moderate "Channing Unitarian," steeped in the piety of New England and the history of its churches and theology, she taught Waldo many of the aphorisms he in turn taught his own children: "Lift your aims." "Always do what you are afraid to do." "Despise trifles." "Turn up your nose at glory, honor and money." And "Oh, blessed, blessed poverty." She first introduced Emerson to Hindu scriptures and Neoplatonism. She anticipated, especially in her openess to natural religion, the Transcendentalist sensibility. Emerson's distinctive views first began to emerge in his letters to "Tnamurya," an anagram of "Aunt Mary," during the 1820s.
Poor as they were, their family history and social position assured that the Emerson boys would be well educated. Waldo entered Harvard at 14. He began then to keep a journal, a practice he continued for the rest of his life, later calling its volumes—all long since published—his "savings bank." He considered various professions, most involving oratory or rhetoric in one way or another. From Harvard he once wrote Aunt Mary, "In my daydreams I do often hunger and thirst to be a painter." His early journals, poems, and other writings were lavishly illustrated with his drawings. He also painted with water colors. His early writings contain much poetry, but he knew he could not earn a living as a poet. One aspiration never left him. He told Prof. James B. Thayer in 1873 that there never was a time that he would not have accepted a professorship of rhetoric at Harvard.
After graduation from the College in 1821, at the age of 18, Emerson taught school for his uncle, the Rev. Samuel Ripley, in Waltham and later opened a finishing school for girls, but he did not enjoy school teaching. His older brother William had studied for the ministry, but abandoned it to study law. Aunt Mary stressed that there always had been, and always must be, a Reverend Mr. Emerson in Boston. Though he questioned his calling, Emerson closed his school after four years to enter Harvard Divinity School.
In October, 1826, Emerson was licensed to preach by the Middlesex Association of Ministers. He became dangerously ill that fall, probably suffering early symptoms of tuberculosis from which his brother William died. In late November he traveled south to Charleston, South Carolina and St. Augustine, Florida, in hope that rest in a warmer climate would help him recover. Having returned to New England the next spring in much better health, he began to preach in Unitarian churches in Massachusetts and New Hampshire.

In 1829 Emerson became associate minister to Henry Ware, Jr. at Second Church in Boston. That year he married Ellen Louisa Tucker. Ellen died of tuberculosis less than 18 months later. Overwhelmed with grief, Emerson wrote in his journal: "Five days are wasted since Ellen went to heaven to see, to know, to worship, to love, to intercede. Reunite us, O thou Father of our spirits."
In 1830, after Ware joined the faculty of Harvard Divinity School, Second Church made Emerson full minister. He never relished parish work, especially the "calling" he was expected to do every afternoon, though he liked preaching. Ware criticized his use of biblical texts to illustrate his sermons, as opposed to preaching from the texts. Though his sermons were not the learned discourses typical of the pulpit in that day, his congregation liked both them and him. He dealt with things of the spirit with a homely elevation that charmed his hearers. The membership grew.
Yet in 1832, in a radical departure from common practice, Emerson resigned his pulpit and never served another congregation. He is often thought to have left the ministry because he could not in conscience serve communion, knowing the members construed the meaning of the rite differently than he did. That issue was his ostensible reason for resignation, though members offered to let him serve communion without taking it himself, if he would stay. Probably, the issue was his vocation: What had God intended for him? Uncertain what his vocation was, he decided it was not the ministry.
His hymn, "We love the venerable house our fathers built to God"—written for the ordination of his successor at Second Church, Chandler Robbins—expresses his affection for the church. His "Divinity School Address" was delivered as a sermon from a minister to graduating students for the ministry. For many years he quietly attended annual meetings of the American Unitarian Association. He did varying amounts of supply preaching, especially at Lexington, until 1846. He used the title "Reverend" for a number of years. It was accorded him by others for many years more. Among his last lectures were "The Preacher," "Worship," and "Religion."
In 1833 Emerson began a new career as a lecturer. He made Concord his home and lived there for the rest of his life, leaving it only for lecture tours. At first he lectured mostly on scientific subjects, in a poetic spirit.
In 1835 he married Lydia Jackson. Lydian, as he called her, took a keen interest in his ideas and his work. They had four children. The loss of their first, Waldo, who died in 1842 at the age of five, was very hard. Their other children were Ellen, Edith and Edward Waldo.
In most ways Emerson's life as a private scholar was conventional, in some regards, even stern. He always wore a black suit, did not like loud laughter, and would not tolerate gossip or flippant mention of love. Death could not be the subject of jest in his presence. But, though not good at repartee, he was a man of gentle humor, especially of the self-deprecating sort, and was much beloved, even revered, by friends and neighbors.
He experimented now and then with currently popular notions, such as vegetarianism, which he found did him no good. He tried, as an egalitarian gesture, having the servants sit at table with the family for meals, but they objected. He tried working in his yard and garden on the theory that manual labor should be part of the scholar's life, but it left him too tired to do his other work. He concluded, "The writer shall not dig." He could not be enticed to join Brook Farm, the commune organized in 1841 by George Ripley and other of his Transcendentalist friends.
In his Concord study Emers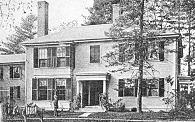 on read many hundreds of volumes and in several languages, including the latest scientific publications and the newly translated sacred texts of Eastern religions, as well as history and literature. He was much taken with the Idealist philosophy of Immanuel Kant, especially as it came to him through the writings of Samuel Taylor Coleridge and William Wordsworth. The influence of Hindu scriptures and Persian poetry, which Emerson had been reading for years, were fully incorporated in his thought and work after 1845.
In 1836 he published his first book, Nature, in an anonymous edition of 500 copies that took six years to sell out. His growing influence came largely through his lectures, but also through his participation in an informal group of bright and articulate younger ministers, who began meeting in September, 1836, to discuss theology, philosophy and related subjects. Variously called Hedge's Club (after Frederic Henry Hedge, whose idea it was), the Symposium (in honor of Plato's dialogue of that name) and the Transcendentalist Club, the group met off and on for about four years. Regarded by many of the older ministers as "radicals," these young men spread their own and Emerson's ideas in sermons, other forms of public address and published articles. Emerson was widely seen as their leader. His stirring Phi Beta Kappa oration at Harvard in 1837, "The American Scholar," was very well received. In it he challenged his audience to cease imitating Europe and to ground their ideas in American resources, sincerity and realism. It has been called "America's Intellectual Declaration of Independence."
By custom the seniors of Harvard Divinity School selected a speaker to address their class and guests in the spring of their final year at the school. In 1838 the eight graduating seniors asked Emerson to address them. He spoke in protest against a stale, inherited Christianity and called for fresh religious inspiration. "Be a man," he said. "Wherever a man comes, there comes revolution. The old is for slaves. . . Refuse the good models. . . Cast conformity behind you, and acquaint men at first hand with Deity."
Emerson considered his ideas consistent with the teachings of Jesus. He was taken by surprise when his "Divinity School Address" was both acclaimed and denounced vigorously in a storm of controversy. Theodore Parker, the newly ordained minister in West Roxbury, thought the speech "sublime." Andrews Norton, Harvard's Dexter Professor of Biblical Literature, labeled it the "latest form of infidelity."
The principle objection to Emerson's address was to his harsh dismissal of Biblical miracles, long accepted by Unitarian theologians as Providential evidence attested to by creditable witnesses. But his critics were also responding to the orthodox of New England's Standing Order churches, who accused the Unitarians of little by little abandoning Christianity. Emerson had denounced an over-emphasis on miracles to highlight his own emphasis on "soul," personal and self-evident experience of the Divine. But to an older generation of colleagues, he seemed to bring only unwelcome confirmation of the accuracy of orthodox charges. Hence the force of their attack, which Emerson's defenders soon answered with equal force. Emerson wrote to his brother Charles, "They say the world is vexed with us on account of our wicked writings. I trust it will recover its composure." He wrote to Prof. Ware, "These things look thus to me! To you, otherwise. Let us say out our uttermost word, and let the all-pervading truth, as it surely will, judge between us."
Beyond that Emerson refused to defend himself or carry on the debate. But the so-called Transcendentalist controversy did not soon subside. Not for a generation was Emerson again invited to speak at Harvard. Emerson did not like the term, "Transcendentalism," preferring "Idealism." He once said to Octavius Brooks Frothingham that Transcendentalism was simply a protest against formalism and dogmatism in religion, not a philosophical but a spiritual movement looking toward a spiritual faith.
Emerson's reputation flourished, as did the demand for his addresses, as the lecture circuit rapidly became a popular cultural institution. Acting as his own booking agent and speaking dozens of times each year on grueling train tours across the country, Emerson was able to support his family, his mother and a retarded brother. Six feet tall and with erect posture and poise, he spoke with a clear, resonant voice. A reporter asked a scrubwoman who always attended his lectures whether she understood them. "Not a word," she replied, "but I like to go and see him stand up there and look as though he thought everyone was as good as he is." At the Unitarian church in East Lexington, where Emerson often preached, a parishioner said to Elizabeth Peabody, "Oh, Miss Peabody, you know we are a plain people and can understand no one but Mr. Emerson."
Always called Mr. Emerson, even by intimates, he was once told by a friend that he could have had more influence had he been personally warmer. He replied that he never intended to be a substitute for the kitchen stove. In great part Emerson was a successful orator because he ever remained a preacher. All his addresses resolve themselves into sermons of uplift. In exchanging the pulpit of Second Church, Boston for the rostrum, he accepted a call to a much larger audience, the country.
Emerson was reluctant to campaign directly for radical social reform, but his involvement with the antislavery movement grew as the national crisis over slavery escalated during the 1840s and early 1850s. He scorned the Abolitionists for the bitterness of their agitation. Yet he spoke out strongly in defense of Elijah Lovejoy, lynched for his anti-slavery publications, and later defended the abolitionist radical John Brown. He delivered his first public antislavery address in 1844, a commemoration of the British emancipation of the slaves in the West Indies. When the Fugitive Slave Act was passed in 1850, he referred to it as "this filthy enactment" and wrote in his journal, "I will not obey it, by God!" Speaking before the citizens of Concord, he said, "This is a law which every one of you will break on the earliest occasion; a law which no man can obey or abet without loss of his self-respect and forfeiture of the name of gentleman." "Do the duty of the hour," he wrote. "Just now the supreme public duty of all thinking men is to assert freedom. Go where it is threatened and say, 'I am for it and do not wish to live in the world a moment longer than it exists.'"
In a series of rhetorically powerful addresses in the early 1850s, one of the most significant of which has only recently been published, Emerson used his oratorical skills effectively in the antislavery cause. He was also influential in making the case for the emancipation of the slaves after the Civil War had begun. In other contexts Emerson urged greater freedom in worship. He championed woman's educational and economic rights. He held forth for more freedom and scope in university education and for purer methods in politics and trade.
Emerson's fame, however, came primarily through his lectures on the Chautauqua Circuit on broader topics and by means of his two published collections of Essays. The great teaching for which Emerson is best remembered is self-reliance, a constant theme of his journals and sermons. Ironically, in his essay titled "Self-Reliance," published in 1841, he said, "To be great is to be misunderstood." His principle idea was much misunderstood. He seldom afterward used that term for it. Emerson hardly regarded the self, as ordinarily understood, as self-sufficient. To be self-reliant, in Emersonian terms, was to listen to and heed the still, small voice of God within. Therefore, self-reliance also meant to him self-mastery, especially of the passions and temper. He regarded the true self, or the ideal self, as innately capable of a natural experience of and knowledge of the Divine, present in all creation.
If we look within and find only ourselves, he said, that is pride, the next thing to atheism. In 1842, only a year after the appearance of "Self-Reliance," Emerson published a poem, "Grace," in which he flatly contradicted some of his earlier assertions. There he spoke of reliance on "example, custom, fear, occasion slow" to protect us from our inclination to sin; they are "hedges to my soul from Satan's creeping feet."
He said in an 1854 address on anti-slavery, "Self-reliance, the height and perfection of man, is self-reliance on God." He preached the God within, not the God of authority and tradition. He many times indicated that we know God first and mainly through the moral law within. He said, "It is by following other men's opinions that we are misled and depraved." Emerson considered his most important contribution to be the essay "Compensation," his term for the working of moral law, a subject that interested him from his earliest years and throughout his life.
Much of Emerson's poetry has been highly esteemed. His poems display tenderness, affection and love of nature. Of special note are "Concord Hymn," written for the completion of the Minuteman Monument in 1837; "Threnody" which expressed his grief at the loss of his first-born son; "Brahma," the epitome of his understanding of the Hindu scriptures; and "May-Day," a happy lyric about walking in the Concord woods. His own favorite was "Days," in which he depicted time as a parade of goddesses whose gracious gifts, if not accepted, are forever withdrawn.
Emerson's health began to fail in 1871, at age 68. He lived out a long slow decline, though he continued to lecture, sometimes from his chair, until two years before his death. He died in his sleep, aged 79, on April 27, 1882.
During his life and for years afterwards Emerson was taken to task for putting dangerous ideas into the heads of young men and women. Some academics criticized his poetry as inconsistent in style and his philosophy as unsystematic. Although the sentences of his essays were conceded to be gems, some deemed their argument defective. The influential critic Matthew Arnold found greatness in Emerson's work only as inspirational literature. In the twentieth century unsympathetic critics rued Emersonian individualism they thought endemic to a selfish, exploitative and materialistic American culture. They found Emerson's philosophy over-optimistic, lacking any sense of irony and without a doctrine of evil.
Emerson's essays and poetry have never ceased to be popular, widely respected and influential among students, the liberally religious and general readers. Moreover, the closing decades of the 20th century witnessed a reevaluation of Emerson in academic circles, showing him to be a writer of more complexity than earlier critics imagined. Scholars now argue that Emerson did not reject his inherited Unitarian faith but, rather, transformed it. New understanding has emerged from reading his well-known works in the context of other documents: his sermons, letters and journals, many of which have only recently become generally available. Understood not as dialectical argumentation, but as a secularized form of 19th century Unitarian preaching, Emerson's essays can be appreciated for their imaginative, paradoxical, accumulative and analogical rhetoric. His formative influence on American poetry, his connections with the later philosophical movement of pragmatism, and his contributions to the theory of democracy have also been explored in detail in what is known as the "Emerson Revival" of the 1980s and 1990s.
The earlier image of Emerson as an isolated and self-sufficient figure has also been undercut in recent years by study of his social relationships, his anti-slavery activity and focus on his mature ethical thought. His optimism is understood as the fruit of a long and hard personal struggle. Appreciated in context, Emerson's self-reliance is the ability, in higher moments of faith, to affirm all creation even while coming to terms with manifest evil.
The principal archives of Emerson's works are at the Houghton Library, Harvard University, and at libraries in Concord, Massachusetts. His works are published widely and frequently anthologized. The most complete edition is The Complete Works of Ralph Waldo Emerson, (Centenary Edition, 1903-04), 12 volumes, edited and with annotations by his son, Edward Waldo Emerson. This edition is gradually being superceded by volumes of a newly-edited comprehensive edition, Collected Works of Ralph Waldo Emerson (1971-), edited by Joseph Slater et al. The best one-volume edition of his essays is The Library of America volume, Emerson: Essays and Lectures (1983), selected by Joel Porte. For his poems, see the Library of America volume, Emerson: Collected Poems and Translations (1994), selected by Harold Bloom and Paul Kane. Other important sets of Emerson material include The Journals and Miscellaneous Notebooks of Ralph Waldo Emerson (1960-82), 16 volumes, edited by William H. Gilman et al.; The Letters of Ralph Waldo Emerson (1939-95), 10 volumes, edited by Ralph L. Rusk and Eleanor M. Tilton; and The Complete Sermons of Ralph Waldo Emerson (1989-92), 4 volumes, edited by Albert J. von Frank et al.; Emerson's Antislavery Writings, edited by Len Gougeon and Joel Myerson (1995); and The Later Lectures of Ralph Waldo Emerson, 2 volumes, (2001), edited by Ronald A. Bosco and Joel Myerson. For a fuller bibliography see Joel Myerson, Ralph Waldo Emerson: A Descriptive Bibliography (1982).
There are many biographies of Emerson. A few of the best are James Elliot Cabot, A Memoir of Ralph Waldo Emerson (1887), 2 volumes; Ralph L. Rusk, The Life of Ralph Waldo Emerson (1949); Gay Wilson Allen, Waldo Emerson (1981); and Robert D. Richardson, Jr., Emerson: The Mind on Fire (1995). A valuable reference for the details of Emerson's life is Albert J. von Frank's An Emerson Chronology (1994).
From the extensive critical literature on Emerson, important earlier studies include Frederic Ives Carpenter, Emerson and Asia (1930); F.O. Matthiessen, American Renaissance (1941); and Stephen E. Whicher, Freedom and Fate: An Inner Life of Ralph Waldo Emerson (1953). Recent studies that reflect the revival of interest in Emerson in the 1980s and 1990s include Harold Bloom, Figures of Capable Imagination (1976); Barbara Packer, Emerson's Fall (1982); David Robinson, Apostle of Culture: Emerson as Preacher and Lecturer (1982); Richard Poirier, The Renewal of Literature: Emersonian Reflections (1987); Wesley T. Mott, "The Strains of Eloquence": Emerson and His Sermons (1989); Stanley Cavell, Conditions Handsome and Unhandsome: The Constitution of Emersonian Perfectionism (1990); Len Gougeon, Virtue's Hero: Emerson, Antislavery, and Reform (1990); David Robinson, Emerson and the Conduct of Life (1993); Albert J. von Frank, The Trials of Anthony Burns: Freedom and Slavery in Emerson's Boston (1998); Phyllis Cole, Mary Moody Emerson and the Origins of Transcendentalism: A Family History (1998); and Sarah Ann Wider, The Critical Reception of Emerson: Unsettling All Things (2000).
Important collections of essays about Emerson include The Recognition of Ralph Waldo Emerson: Selected Criticism Since 1837 (1972), edited by Milton R. Konvitz; Emerson Centenary Essays, edited by Joel Myerson (1982); The Cambridge Companion to Ralph Waldo Emerson, edited by Joel Porte and Saundra Morris (1999); and A Historical Guide to Ralph Waldo Emerson (2000), edited by Joel Myerson.
Article by Frank Schulman
Posted December 6, 2001