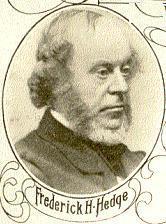 Frederic Henry Hedge (December 12, 1805-August 21, 1890) was a Unitarian minister, an early Transcendentalist leader, a historical theologian, a German scholar and translator, and a Harvard professor. Born in Cambridge, Massachusetts, the son of Harvard professor Levi and Mary (Kneeland) Hedge. He evidenced so much scholarly aptitude as to be considered ready for Harvard College at an early age. His father, however, felt he was not sufficiently mature, and took the then radical step of sending the boy to Germany for further study. Returning home four years later, at seventeen, he received advance placement at Harvard, and graduated in 1825, both valedictorian and class poet. He immediately entered the Divinity School, where he first met Ralph Waldo Emerson.
Hedge completed his ministerial preparation in 1828, and the following May received ordination and installation at nearby West Cambridge (now Arlington), serving from 1829-35 Three other ministries followed: Bangor, Maine (1835-50); Providence, Rhode Island (1850-56); and Brookline, Massachusetts (1857-72). His marriage, in 1830, was to Lucy L. Pierce, the daughter of Dr. John Pierce of the First Parish in Brookline. They had a son, Frederic Henry Jr., and three daughters: Charlotte, Ellen, and Caroline.
During these years he contributed numerous articles to periodicals, especially The Christian Examiner. The first, on Samuel Taylor Coleridge, in 1833, received plaudits from his younger, more progressive readers, including Emerson, who called it "a living, leaping Logos." It is rated by scholars today as the first published expression in America of the Kantian idealism which came to be known as Transcendentalism. It was on one of Hedge's frequent trips to Boston from Bangor that the "Transcendentalist Club" first met (1836). Since the group nearly always met whenever he visited, its members often referred to it as "Hedge's Club." Its members included, in addition to Hedge and Emerson, Bronson Alcott, James Freeman Clarke, Orestes Brownson, Convers Francis, and George Ripley. Later, Cyrus Bartol, Theodore Parker, Margaret Fuller, Elizabeth Peabody and others attended. By the 1840s, however, Hedge found himself increasingly at odds with the more radical members of the group. When Emerson and Fuller began editing their new magazine, The Dial, Hedge refused to participate, citing discomfort with many of the ideas being expressed there. Nevertheless he later contributed some minor items.
His Phi Beta Kappa oration at Harvard, Conservatism and Reform (1841), expressed a number of well-articulated liberal sentiments, but stopped short of endorsing The Dial's full platform of radical dissent. Both Emerson and Fuller found it disappointing, lacking the bold sentiments they expected, and Emerson refused to publish it in The Dial. Hedge held to a moderating position, thus tending to be dismissed by the zealots of both sides. Years later he summed up his reasons for distancing himself from the Club: "I had no belief in ecclesiastical revolutions to be accomplished with set purpose. And I seemed to discern a power and meaning in the old, which the more impassioned would not allow. I had even then made up my mind, that the method of revolution in theology is not discession [sic], but development. My historical conscience, then as since, balanced my neology, and kept me ecclesiastically conservative, though intellectually radical."
Hedge went on to become a respected elder statesman in the Boston Unitarian establishment. He edited The Christian Examiner, 1857-1861, and served a term as president of the American Unitarian Association, 1859-1862. During his Brookline pastorate he also taught "ecclesiastical history" at the Divinity School, 1857-1878, as visiting professor. On relinquishing the Brookline pulpit he moved back to his ancestral home in Cambridge, where he joined the faculty of Harvard College as professor of German Language and Literature, 1872-82. He died in Cambridge in his 85th year.
Hedge's scholarly, literary, and theological contributions were considerable. He published numerous translations from the German, notably the standard version in English of Luther's, A Mighty Fortress. In teaching church history at the Divinity School, he emphasized the concept of religion as a continually developing process: "No form of Christianity is absolutely and only true. Each successive one was right in its place, and good in its season; each put forward the face, and embodied the truth, which the time required." His was an early form of process theology. He advocated social reform, and called for "oecumenical" co-operation among Christians—perhaps the first use of the term in its modern sense. Denominationally, Hedge joined with Henry Whitney Bellows and James Freeman Clarke, in support of the "Broad Church" movement. His presidential message at the 1860 May Meetings of the AUA developed this doctrine of the liberal church, and was deemed an eloquent, thoughtful performance. In 1866 he pursued further this line of thought with an address before the Massachusetts Convention of Congregational Ministers.
A variety of essays and sermons, gathered in book form, would be, Hedge hoped, his legacy: Reason In Religion (1865), Ways of the Spirit (1877), and Martin Luther and Other Essays (1888). A volume of sermons appeared posthumously. Representative in their time of a broadly tolerant, ecumenical, liberal Christianity, they could not withstand the acids of the non-theistic humanist critique that dominated much of the twentieth century. Only now, as a new century dawns, are some Unitarian Universalists beginning to appreciate the warmth and generosity of Hedge's mediating spirit.
Sources
There are collections of Hedge correspondence and papers at the Andover-Harvard Library of the Harvard Divinity School, the Houghton Library of Harvard University, the Schlesinger Library at Radcliffe College, and the Harvard University Archives, all in Cambridge, Massachusetts. There are further letters at the Massachusetts Historical Society in Boston, Massachusetts and at the Bangor, Maine Historical Society. There are collections of Hedge's works at the Boston Public Library, the Andover-Harvard Theological Library, and the New York Public Library. The parish records of First Parish in Arlington are at the Andover-Harvard Theological Library.
Other Hedge works, in addition to those mentioned above, include Prose Writers of Germany (1848), Recent Inquiries in Theology (1860), The Primeval World of Hebrew Tradition (1870), Atheism in Philosophy (1884), and Hours with German Classics (1887). Hedge edited and annotated a translation of Goethe's Faust (1882) and edited and revised a translation of Goethe's Letters from Switzerland and Travels in Italy (1884).
There is a published biography by Bryan F. LeBeau, Frederic Henry Hedge: Nineteenth Century American Transcendentalist (1985). Hedge is one of the subjects of Ronald Vale Wells's Three Christian Transcendentalists (1943, reprinted and updated 1972). Other studies include Rethinking the Unitarian Relationship with Protestantism: An Examination of the Thought of Frederic Henry Hedge, by George Huntston Williams (1949); "The Early Life and Thought of Frederic Henry Hedge, 1805-1850," an unpublished thesis by Peter King Carley (Syracuse University, 1973); "Dr. Frederic Henry Hedge: His Life and Works to the End of His Bangor Pastorate," an unpublished thesis by Martha Ilona Tuomi (University of Maine at Orono, 1935); and a pamphlet, Frederic Henry Hedge: A Cosmopolitan Scholar, by Orie W. Long (1940). Charles Grady has writen a number of articles on Hedge, including "A Conservative Transcendentalist," in Studies in the American Renaissance (1983), "High Churchman in a Low Church," in Proceedings of the Unitarian Universalist Historical Society (1987-88), and "About Hedge-Bibliographically Speaking," in the Unitarian Universalist Christian (1981).
Article by Charles Grady
Posted July 21, 2000