Louisa May Alcott (November 29, 1832-March 6, 1888), best known as the author of Little Women, was an advocate of abolition, women's rights, and temperance. Her stories, novels, and poems helped to support the Alcott family, and most have now been republished, widening her reputation beyond that of children's author and bringing fresh critical notice to her work.
Louisa was the second daughter of Bronson Alcott and Abigail May, who met while Abigail was visiting her brother, Samuel J. May, minister of the Unitarian church in Brooklyn, Connecticut. Abigail fell for the tall, handsome young schoolteacher with radical ideas. Her family feared—rightly—that Bronson had little notion of how to support a family, but the young people were not to be deterred. They were married on May 23, 1830, at King's Chapel, Boston, where the May family were members.
The couple moved to Philadelphia, where their first daughter Anna was born. They lived in Germantown when Louisa arrived on November 29, 1832. Before Louisa's second birthday they returned to Boston for the opening of Bronson Alcott's unconventional Temple School, which lasted almost five years. Elizabeth was born in June, 1835, and Abby May five years later. By that time the Alcotts were living, for the first of several times, in Concord, Massachusetts. Under the wing of Ralph Waldo Emerson, Alcott recovered from the failure of his Temple School and looked about for new projects.
The girls were mostly educated at home. "I never went to school," Louisa wrote, "except to my father or such governesses as from time to time came into the family. . . . so we had lessons each morning in the study. And very happy hours they were to us, for my father taught in the wise way which unfolds what lies in the child's nature as a flower blooms, rather than crammed it, like a Strasburg goose, with more than it could digest. I never liked arithmetic nor grammar . . . but reading, writing, composition, history, and geography I enjoyed, as well as the stories read to us with a skill peculiarly his own."
When Louisa was ten the family, now under the influence of Bronson Alcott's English friends Charles Lane and Henry Wright, moved to Harvard, Massachusetts. On a hillside farm they planned to establish a model community, Fruitlands, making use of no animal products or labor except, as Abigail Alcott observed, for that of women. She and her small daughters struggled to keep household and farm going while the men went about the countryside philosophizing. In a few months quarrels erupted, and winter weather saw the end of the experiment. The only lasting product of Fruitlands was Louisa's reminiscence,"Transcendental Wild Oats."
The family retreated to Concord and for the next three years lived across the road from Emerson in a house they called Hillside, a relatively happy period preserved in the first chapters of Little Women. Closeness to the Emerson family was important to Louisa. Her first book, Flower Fables, 1854, was written for Ellen Emerson, whose father she idolized.
"In browsing over Mr. Emerson's library," she later wrote, "I found Goethe's 'Correspondence with a Child,' and at once was fired with a desire to be a Bettine, making my father's friend my Goethe. So I wrote letters to him, but never sent them; sat in a tall cherry tree at midnight, singing to the moon til the owls scared me to bed; left wild flowers on the doorstep of my 'Master,' and sung Mignon's song under his window in very bad German."
Years later Alcott told Emerson about her early romance. "He was much amused," she wrote, "and begged for his letters, kindly saying he felt honored to be so worshipped. The letters were burnt long ago, but Emerson remained my 'Master,' while he lived, doing more for me,—as for many another—than he knew, by the simple beauty of his life, the truth and wisdom of his books, the example of a great, good man."
In these years, Louisa "got religion," as she later put it. Running in the Concord woods early one fall morning, she stopped to see the sunshine over the meadows. "A very strange and solemn feeling came over me as I stood there," she wrote in her journal, "with no sound but the rustle of the pines, no one near me, and the sun so glorious, as for me alone. It seemed as if I felt God as I never did before, and I prayed in my heart that I might keep that happy sense of nearness all my life."
In adulthood she wrote: "When feeling most alone, I find refuge in the Almighty Friend. If this is experiencing religion, I have done it; but I think it is only the lesson one must learn as it comes, and I am glad to know it."
Over the next few years she read Plutarch, Shakespeare, Milton, Dante, Goethe, Schiller, Bettine Brentano, Mme. de Stael, Emerson, Charlotte Bronte, Carlyle, Margaret Fuller, and George Sand, among others. Such literature fueled her active imagination with ideas for the thrillers she began writing in her teens, hoping to support what she called "the pathetic family."
Her first story, "The Rival Painters, A Tale of Rome" was written at the Hillside house in 1848 and published four years later in Olive Branch. By that time, the Alcotts were back in Boston, where they lived at five different addresses between 1849 and 1852. The two older girls contributed to the meager family income by teaching. Louisa's unhappy few weeks with a Dedham family were recorded in her essay, "How I Went Out to Service." Publisher James T. Fields rejected the piece and advised her: "Stick to your teaching, Miss Alcott. You can't write." Disheartened but determined, she continued to write, gradually learning how to produce what would sell. On her own in Boston she also took in sewing and served occasionally as governess. Living as frugally as possible, she sent home almost all the money she earned..
In this difficult time Louisa discovered Theodore Parker. "Go to hear Parker," she wrote in her journal, "and he does me good. Asks me to come Sunday evenings to his house. I did go there, and met [Wendell] Phillips, [William Lloyd] Garrison, . . . and other great men, and sit in my corner weekly, staring and enjoying myself."
The Parkers offered the young woman practical as well as spiritual support when she needed help in finding a job. Under the name of Mr. Powers, Theodore Parker appears in her autobiographical novel, Work, which includes a description of his Music Hall services. In 1881 she wrote a preface to a new edition of the Prayers of Theodore Parker.
According to her biographer Ednah Dow Cheney, Alcott also liked to hear Unitarian Cyrus Bartol preach but never joined any church. While visiting New York in 1875 she heard the Revs. Octavius Brooks Frothingham and Henry Whitney Bellows. She enjoyed the company of Unitarian John Turner Sargent and his Radical Club, which she attended in 1867: "Fine time. Bartol inspired; Emerson chairman; Alcott on his legs; strong-minded ladies out in full force; aesthetic tea for refreshment."
With all her hard work, Alcott found time to enjoy Boston theater. A veteran of amateur performances at home and elsewhere, she loved the stage and wrote for it. One of her plays was accepted for presentation, but circumstances prevented its opening. She made friends in the theatrical community and through them received a cherished theater pass. Summering in Walpole, New Hampshire, between 1855 and 1857, she organized the Walpole Amateur Dramatic Company. When she moved back to Concord in the fall of 1857, she lost no time in forming the Concord Dramatic Union. Theatricals involved many Concordians and livened up what she considered a dull town.
Settled in Concord for the next twenty years, Alcott's family finally had a permanent home. Their first year there was marked by Elizabeth's death and Anna's marriage to John Pratt—contrasting events of great significance for her. Bronson Alcott continued to lecture and served as superintendent of schools. Alcott spent as much of her time as possible in Boston, writing, tutoring and sending money home. Her stories written under the pseudonym "A. M. Barnard" found a ready market; "Pauline's Passion and Punishment," 1863, won its author a $100 prize and appeared in Frank Leslie's Illustrated Newsletter. She was also working on two serious novels, Moods, and "Success," later published as Work, 1873.
With the outbreak of the Civil War, Alcott was eager to do her part. She had long attended antislavery meetings and fairs. "I became an Abolitionist at an early age," she wrote, "but have never been able to decide whether I was made so by seeing the portrait of George Thompson [the British abolitionist] hidden under a bed in our house during the Garrison riot . . . or because I was saved from drowning in the Frog Pond some years later by a colored boy. However that may be, the conversion was genuine; and my greatest pride is in the fact that I lived to know the brave men and women who did so much for the cause, and that I had a very small share in the war which put an end to a great wrong."
Alcott's "small share" was a month's service during the winter of 1862-63 as a nurse at the Union Hotel Hospital in Georgetown, Virginia. Though she began with characteristic determination, typhoid pneumonia soon forced her home. Her health was permanently damaged by the fever and by the calomel (mercurous chloride) with which she was dosed. After a gradual recovery she was able to write "Hospital Sketches," serialized in the Boston Commonwealth and published in book form in August, 1863. The book was extremely popular and stimulated calls for more of her work. In December she published two more books, and her dramatization of "Scenes from Dickens" opened in Boston as a benefit for the Sanitary Commission. In 1864 Moods was published, but she still depended on her thrillers for reliable income.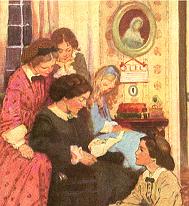 When the war ended, Alcott spent a year in Europe as the companion of Anna Weld, enjoying scenes familiar to her in books. Her return to Boston marked the beginning of a new phase in her career. She accepted the editorship of a children's magazine, Merry's Museum, and became its major contributor. In September, 1867, publisher Thomas Niles asked her to write a book for girls, but it was not until the following May that she could bring herself to this task, not one of her own choosing. She then went into her usual writer's "vortex" and, in mid-July finished Part 1 of Little Women for fall publication. It was an immediate best seller. Readers clamored for a sequel. Part 2 was published the following spring.
From this point on Louisa May Alcott was a victim of her own success. Though she yearned to do more serious fiction, children's books flowed from her pen for the rest of her life because their sales supported her family. "Twenty years ago," she wrote in her journal in June, 1872, "I resolved to make the family independent if I could. At forty that is done. Debts all paid, even the outlawed ones, and we have enough to be comfortable. It has cost me my health, perhaps; but as I still live, there is more for me to do, I suppose."
Alcott and her widowed sister Anna Pratt bought the Thoreau house on Concord's Main Street and moved their mother into it only a few days before her death. When Bronson Alcott started his School of Philosophy, his daughters saw to it that lecturers and their audiences were housed and fed. Asked for her definition of philosophy, Alcott replied: "My definition is of a man up in a balloon, with his family and friends pulling the ropes which confine him to earth and trying to haul him down."
Alcott gave her energy to practical reforms, women's rights and temperance. She attended the Women's Congress of 1875 in Syracuse, New York, where she was introduced by Mary Livermore. She contributed to Lucy Stone's Woman's Journal while organizing Concord women to vote in the school election. "Was the first woman to register my name as a voter," she wrote. "Drove about and drummed up women to my suffrage meeting. So hard to move people out of the old ruts." And again, "Helped start a temperance society much needed in C[oncord]. I was secretary, and wrote records, letters, and sent pledges, etc."
She continued to produce her stream of children's books and wrote an adult novel, A Modern Mephistopheles, published in 1877. Spending considerable time in Boston, she sometimes shared her rooms at the Bellevue Hotel with her sister May and also provided her with art lessons. They went abroad together, and May was able to establish herself as an artist in London. She married Ernest Nieriker and settled with him in Paris but died a few weeks after the birth of a daughter named after Louisa. She left the baby to Alcott. In September, 1880, "Lulu" arrived in Boston and gave Alcott's life a new focus. She delighted to watch the child grow, told her stories and published them as Lulu's Library.
As Alcott's health continued to fail, she tried various doctors and "cures." When her father suffered a stroke in 1882, she established a home for him with Anna, her two sons and little Lulu at 10 Louisburg Square in Boston. She herself moved from place to place in search of health and peace to write, settling at last in a Roxbury nursing home. Although only in her mid-fifties, she realized that death might come at any time and legally adopted Anna's son John Pratt. She willed her copyrights in trust to him, stipulating that the income be shared by Anna, Lulu, John and Anna's other son Fred.
On March 1, 1888, Louisa visited her father for the last time."I am going up," he said. "Come with me." "Oh, I wish I could," she replied. Bronson Alcott died on March 4, and Louisa May Alcott on March 6. She was buried in Sleepy Hollow cemetery in Concord. Her grave bears a Civil War veteran's marker.
A complete list of Alcott letters is in Joel Myerson and Daniel Shealy, "A Calendar of Letters of Louisa May Alcott," Studies in the American Renaissance (1988). Some letters appear in Ednah D. Cheney, Louisa May Alcott, Her Life, Letters, and Journals (1889, repr. 1980) and Joel Myerson and Daniel Shealy, eds., The Selected Letters of Louisa May Alcott, introduction by Madeleine B. Stern (1987, 1995). The journals are also published: Joel Myerson, Daniel Shealy, and Madeleine B. Stern, eds., The Journals of Louisa May Alcott (1989)
Alcott's thrillers are available in three collections, all edited by Madeleine Stern: Behind a Mask: Unknown Thrillers of Louisa May Alcott (1975), Plots and Counterplots: More Unknown Thrillers of Louisa May Alcott (1976), and Louisa May Alcott Unmasked: Collected Thrillers (1995). Among Alcott's works not mentioned in the above article are The Rose Family and On Picket Duty, and Other Tales (1863), Morning Glories and Other Stories (1868), An Old-Fashioned Girl (1870), Little Men (1871), Eight Cousins (1875), Silver Pitchers (1876), Rose in Bloom (1876), Under the Lilacs (1878), Jack and Jill (1880), Spinning Wheel Stories (1884), Jo's Boys (1886), A Garland for Girls (1887), Comic Tragedies (1893), and A Long Fatal Love Chase (1995). She also wrote six volumes of Aunt Jo's Scrap Bag (1872-82) and three volumes of Lulu's Library (1885-89). Her poem, "Sunlight," was published in Peterson's Magazine (September 1851) under the name "Flora Fairfield."
Biographies of Alcott include Madeleine B. Stern, Louisa May Alcott (1950); Martha Saxton, Louisa May, A Modern Biography of Louisa May Alcott (1977); and Madelon Bedell, The Alcotts: Biography of a Family (1980).
Article by Joan Goodwin
Posted December 1, 2001