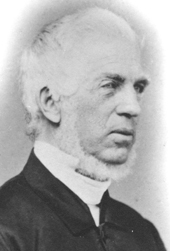 Dolphus Skinner (May 18, 1800-October 2, 1869), a Universalist minister and editor, served the Universalist church in Utica, New York for over 40 years. His long ministry in provided stability during the rapid growth of Universalism in central New York. At the time of his death he was, according to his obituary, "undoubtedly the most popular [Universalist] preacher ever in Central New York." During his long career, he worked tirelessly to articulate the theological basis for Universalism, to encourage its growth, and to strengthen its institutions.
Dolphus was the sixth of nine children born to a prosperous farm family in Westmoreland, New Hampshire. His parents, Ruth Warner and Timothy Skinner, were Universalists. His oldest brother, Warren (1791-1874), also became a Universalist minister. Warren preached for a half century, 1823-74, throughout New Hampshire and Vermont. His son, Universalist minister Charles Augustus Skinner, was the grandfather of the Universalist theologian and educator, Clarence Russell Skinner.
As a youth, Dolphus worked on his parents' farm and was trained as a weaver. In their teens, he and his close friend Lemuel Willis decided to become Universalist ministers. After completing their common-school education, they taught school until they had saved enough money to attend the academy at Chesterfield, New Hampshire, where they studied Latin and Greek. In 1822 they both began studying for the ministry with Samuel Loveland in Reading, Vermont. They were licensed to preach by the Universalist General Convention in September, 1822, after only a few months of training.
Skinner was ordained by the Northern Association in September 1823. From 1823-25 he itinerated in New Hampshire and Vermont. For part of this time, he held a half-time settlement in Langdon, New Hampshire. In 1825, before leaving New England for New York State, Skinner married Gracia Walker, the daughter of a Universalist family from Springfield, Vermont. The couple had two sons.
In 1825 Skinner became the first settled minister at the Universalist church in Saratoga Springs, New York. In 1827 he was settled at the Universalist church in Utica, New York, a position he held for the rest of his life.
On his arrival in Utica, Skinner took over publication of a small and unsuccessful Universalist newspaper, the Utica Magazine. Through a series of mergers (with the Evangelical Repository in 1828 and the Gospel Advocate in 1830), he built it up into the largest-circulation Universalist newspaper of its time. Skinner edited the Evangelical Magazine and Gospel Advocate from 1830 to 1835, then continued for a few years as associate editor with Aaron B. Grosh and Stephen R. Smith. According to the Universalist Register, "It would be impossible to calculate the influence which [the Evangelical Magazine and Gospel Advocate] exerted through Central New York, and, indeed, throughout a large portion of the United States."
Skinner helped found the New York State Convention of Universalists. He served as delegate from the Central Association to the committee for recommending a form of convention that would be acceptable to all, 1827. He was on the committee on discipline and was the standing clerk of the convention, 1827-28. In 1828 and 1829 he hosted the meetings at his home.
Although not an original theological thinker, Skinner was a persuasive and effective spokesman for the type of Restorationist Universalism taught by his mentor Loveland. In theological debates he tried to avoid rancorous controversy, relying on the clarity of his arguments and the dignity of his demeanor to win adherents to his positions. "We must be careful how, and with what weapons, we contend," he advised his congregation. "We must not contend clamorously, but while we oppose the errors, show that we love those who embrace them." He was the author of two books of theological argument. In A series of letters on important doctrinal and practical subjects, 1830, he argued the relative merits of Universalism and Calvinism with two Utica-area Presbyterian ministers. A discussion of the doctrine of endless misery and universal salvation, 1840, was a record of his epistolary debate with Alexander Campbell, the founder of the Disciples of Christ.
For the most part, Skinner's was a voice for peace, unity, and tolerance among Universalists. His obituary noted, "He was very faithful in attending Associations, Conventions, and other denominational gatherings, and his influence was always in favor of progress and peace." During the Restorationist Controversy, he refrained from explicit criticism of either side, concentrating instead on making a clear, well-reasoned case for limited future punishment.
One notable exception to Skinner's usual broadmindedness and tolerance came after Abner Kneeland renounced Christianity in 1829. Skinner became convinced that Orestes Brownson, then a Universalist minister in Auburn, New York and editor of the Gospel Advocate, was showing "infidel" tendencies similar to Kneeland's. Desperate to protect New York Universalism from another such embarrassment, Skinner arranged to buy the Gospel Advocate in order to remove Brownson from the editorship. Since Brownson depended for his livelihood on his income from the Gospel Advocate, the loss of his position also drove him out of his church. Brownson soon departed the Universalist ministry. As Willis commented approvingly, "Mr. S. would have no skeptical writers employed in conducting the paper."
Skinner supported the causes of temperance and the abolition of slavery, but such social issues were not as close to his heart as was the progress of Universalism. He was a charter member and an early treasurer of the Universalist Historical Society. He was a great supporter of Universalist schools, both for the education of clergy and so that children of Universalist families would not have to be educated in an environment hostile to Universalism. In 1831 he served on the committee to study the feasibility of the educational project that grew into the Clinton Liberal Institute. In 1858-59, after financial difficulties had forced the Institute to close its Male Department, he led a fund-raising campaign which allowed it to get out of debt and resume the education of students of both sexes.
Skinner frequently traveled south in hopes of repairing his health. He stayed in Richmond, Virginia for about half a year in the winter of 1837-38. While there he preached to the Richmond Society. In the last years of his life Skinner traveled to Cuba and Venezuela. When he died, he left substantial bequests to the Clinton Liberal Institute and St. Lawrence University.
Sources
There is information on Dolphus and Warren Skinner in the archives at Andover-Harvard Theological Library, Harvard Divinity School, in Cambridge, Massachusetts. The portrait of Dolphus Skinner above is from that collection and is used with the Harvard Divinity School's kind permission. Among Dolphus's published works, not mentioned above, are A Lecture Sermon on the Spring Season of the Gospel (1823), Two Discourses, delivered before the First Society of United Christian Friends (1826), The Feast of Zion, a Sermon (1829), The Final Salvation of All Mankind Clearly Demonstrated by the United Voice of Reason and Revelation (1840), and Mourners Comforted, a Sermon (1844). Warren wrote A Sermon, preached at Cavendish, Vermont, on Fast Day (1829), Essays on the Coming of Christ (1830), Four Sermons, on the Doctrine of Endless Misery (1830), The Christian Ministry, a Sermon (1833), Christ's Kingdom in the Earth (1834), and Sermons on the Doctrine of Endless Punishment (1835). There are obituaries for Dolphus and Warren Skinner in the Universalist Register and Almanac (1870 and 1875). There is an obituary for Dolphus in The Universalist (Oct 23, 1869). An important source of information is Lemuel Willis, "Recollections Pertaining to the Universalist Church during the first Half of this Century, No. 7: Dolphus Skinner," The Universalist (19 Sept. 1874). There are a few references to Dolphus in Richard Eddy, Universalism in America, vol. 2 (1884) and Russell Miller, The Larger Hope, vol. 1 (1979), particularly in connection with Clinton Liberal Institute.
Article by Lynn Gordon Hughes
Posted November 1, 2005