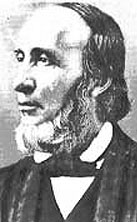 Edmund Hamilton Sears (April 6, 1810-January 16, 1876), a Unitarian parish minister and author, was understood in his day to be conservative and not in sympathy with either "broad church" or "radical" Unitarians. He wrote a number of theological works influential among liberal Protestants, inside and outside the Unitarian fold. Sears's fame is due to his composition of the quintessentially Unitarian Christmas carol, "It Came upon the Midnight Clear."
The youngest of three sons of Joseph and Lucy (Smith) Sears, Edmund grew up on a farm within sight of the Berkshire Hills, in Sandisfield, Massachusetts. He told his friend and colleague, Chandler Robbins, that as a child he had fancied the hilltops to rise up near heaven, where "bright-robed messengers alighted and rested, as they came and went on their errands of love."
From his father Edmund learned to appreciate poetry. He wrote that as a child, "[w]hen at work, some poem was always singing through my brain." From both parents he learned the importance of moral duty. Though they encouraged his love of study, the burden of farm labor prevented regular school attendance. Yet in 1831 his education was advanced enough for his admission as a sophomore at Union College in Schenectady, New York. He won a college prize for his poetry.
Upon graduation Sears studied law for nine months under a lawyer in Sandisfield. He then taught at Brattleboro (Vermont) Academy, and soon began to study for the ministry under Addison Brown, minister of the Unitarian Church in Brattleboro. Attracted by the writings of Boston divines William Ellery Channing and Henry Ware, Sears went on to study at the Theological School in Cambridge, Massachusetts, 1834-37. He did student preaching in Barnstable, Massachusetts, where he met Ellen Bacon. They married in 1839.
In the meantime the American Unitarian Association supported Sears's work as a missionary in the frontier area around Toledo, Ohio. In late 1838 he supplied the pulpit for the First Congregational Church and Society in Wayland, Massachusetts. Impressed by his character and his preaching, the church extended a call to settle with them. He accepted, and the church ordained and installed him as minister in February, 1839. Many years later, Sears explained that he had never been ambitious for a large city pulpit or for the prominence of such a position. Rather, he was drawn by "the quiet beauty of Wayland with its sylvan life and little parish."
Though he found Wayland pleasing, Sears learned that to provide for his family he needed to serve a larger, more prosperous church. His successful ministry at the Congregational Church in Lancaster, 1840-47, was, however, cut short by illness and depression. Unable afterwards to preach in a voice loud enough to be heard by a large congregation or to sustain the work of a large parish, Sears returned to Wayland for a year of rest and recovery. When his health had improved, he was recalled to the Wayland ministry and served there 1848-65. With a lighter workload he spent much of his time writing.
As a student Sears had written a Christmas carol, "Calm on the Listening Ear of Night," 1834, his lyrics describing the mystical moment when the angels' anthem burst upon the silent hills and plains of Palestine. It was printed in many American hymnals. But it was his carol, "It Came upon the Midnight Clear," first performed in Wayland in 1849, that achieved lasting popularity. Writing during a period of personal melancholy, and with news of revolution in Europe and the United States' war with Mexico fresh in his mind, Sears portrayed the world as dark, full of "sin and strife," and not hearing the Christmas message:
And man, at war with man, hears not
The love-song which they bring:
O hush the noise, ye men of strife,
And hear the angels sing.
Some have criticized "It Came upon the Midnight Clear" for its unscriptural references to "prophet-bards" and an "age of gold," and for never mentioning the Christ-child. A century after the carol was written, British carol scholar Erik Routley wrote that "in its original form, the hymn is little more than an ethical song, extolling the worth and splendour of peace among men."
Ironically, the piety and theology of Edmund Sears, author of this "humanist" carol, were intensely Christ-centered. "The word God may be uttered without emotion," he told his congregation, "while the word Jesus opens the heart, and touches the place of tears." Sears believed in a Christ fully human and fully divine, the incarnation of the Divine Word, and the mediator who alone could bridge "the awful gulf between God and man." Sears's was a high Christology, with an Arminian leavening: God reaches down from a great distance to humanity, through his Son and angels, but his "peace" is contingent upon a human response.
In fact Sears cared little about any technical terms of the relationship between God and Christ. He wrote, "I do not believe that any analysis in the power of man can ever reduce to scientific proposition the mystic union between Christ and Father. Neither Trinity, nor Unity, neither Arian, nor Sabellian, nor Socinian, can ever give you such a psychology of the Divine nature as to bring it all within the grasp of the finite understanding."
To Sears Jesus was neither a primarily historical figure, "disappeared into the distant past," nor a subject for "theological pugilism," but an experience in daily life. He found the "living Christ" best presented in the Gospel of John. A product of his lifelong biblical study, The Fourth Gospel the Heart of Christ, 1872, was his most widely-read work.
In Regeneration, 1853, commissioned by the Executive Committee of the American Unitarian Association, Sears dealt with the degenerative and regenerative tendencies at work in human nature and the path to salvation. Though he rejected the orthodox doctrine of original sin, he was not as sanguine about the human condition as some Unitarians. He saw all human groups and individuals as more or less tainted with hereditary and progressive corruption. At the same time he wrote of people as fashioned in the image of God and blessed with varying degrees of development in their spiritual nature.
Like his other works, Athanasia, or Foregleams of Immortality, 1858, gives expression to strains of Platonic Idealism which also, in a different setting, inform Emerson's Transcendentalism. In Athanasia Sears spoke of death and resurrection as the emergence of a person's inner nature "which comes out of the natural body as a rose out of the bursting calyx." Sears added to his revised edition of this work, Foregleams and Foreshadows of Immortality, 1873, a discussion of other religions. Finding these "provisional," he yet allowed that "all the great faiths of the world have enough in them of the good and true to save the people who live under them if they live obedient thereto."
Although some Unitarian contemporaries thought Sears's positions conservative, they would have been considered highly unorthodox in other churches. His theological investigations and his use of language were entirely too independent for any but a liberal church. According to Samuel A. Eliot, his works "bear on every page the mark of original research, candid judgment, sincere desire for truth, and charm of literary style."
Sears's friend, Lydia Maria Child, who lived in Wayland and shared his interest in Swedenborgian mysticism, sometimes attended his services. "I love and reverence Mr. Sears," she wrote, "though I cannot quite agree with all his conclusions." He had not the temperament of a reformer, but as she observed, "He had no reluctance to incur obloquy in vindication of the right." Sears preached the equality of women and men. In a satirical poem from his Fire-side Colloquies, 1847, he argued that it was just as wrong to kill in a war as in private life and that, as soldiers killed at the order of the President, the chief executive ought to be punished:
And does he make men shoot and kill?
Then let some pious folk,
A gallows build at Washington,
And hang up Mr. Polk!
After the Fugitive Slave Law was passed, Sears declared from his pulpit that "when the human and the Divine law were in conflict it was the duty of all to obey the latter." In a widely-circulated sermon, Revolution or Reform, 1856, he predicted that the crime of slavery, "persevered in and unrepented of," would lead to a national retribution. "Every time we have dallied with the slave power we have sown the wind, and every year it becomes more certain that we shall reap the whirlwind!"
After the Civil War, Sears resigned his Wayland pastorate in order to spend all his time writing. He returned to ministry in 1866, however, succeeding the elderly Joseph Field in nearby Weston, Massachusetts. From 1859-71 he was also associate editor of the Monthly Religious Magazine.
In 1865 Henry Whitney Bellows, then preparing to organize a new Unitarian body, the National Conference, classified Sears as an "Evangelical," one of a few ministers who "want to secede & are disposed to deny any fellowship with the looser & more liberal party." But Sears did not secede. He did make known a practical, rather than a theological concern, asking in the Monthly Religious Magazine in 1870, "How long can anyone suppose that contributions will flow largely and spontaneously into the treasury of the Association or the Conference, from churches that stand squarely on their covenants, while such a state of things [i.e., a wide range of markedly differing theological stances] is suffered to exist."
Chandler Robbins noted that Edmund Sears was not a highly partisan sectarian. "He walked and worked with a sect only so far as he believed that its faith and practice conformed to the spirit and precepts of the Great Head of the Church: and he worked with it in the hope that he might influence and help its representatives to be true and loyal to their Heavenly Master—but no further."
In the summer of 1873 Sears enjoyed a tour of Europe. In 1874, while working in his garden, he fell from a tree. From that time he was rarely free of illness and pain. Shortly before he died he wrote, in "My Psalm,"
And pain, which in the long, long hours
Keeps on night and day,
Through these fast-crumbling walls to thee
Finds a new opening way.
Sources
Papers relating to the life and ministry of Edmund H. Sears are at the Wayland Historical Society and at the Andover-Harvard Theological Library in Cambridge, Massachusetts. In addition to the works mentioned above, Sears wrote Genealogy and Biographical Sketches of the Ancestry and Descendents of Richard Sears, the Pilgrim (1857); Pictures of the Olden Time (1857); Hindrances to a Successful Ministry (1858); Christian Lyrics (1860); The Town of Wayland in the Civil War of 1861-65; Sermons and Songs of the Christian Life (1875); Christ in the Life (1877); Last Sermon Written, but Not Preached, with Chandler Robbins's Sermon in Commemoration of Rev. E. H. Sears (1876); and various articles, printed sermons, and tracts. Sears wrote between 40 and 50 hymns.
There is no full-length biography of Sears. Shorter biographical pieces include Chandler Robbins, "Memoir of Rev. Edmund Hamilton Sears," Proceedings of the Massachusetts Historical Society (1891); In Memoriam: Edmund Hamilton Sears, Ellen Bacon Sears, Katherine Sears (1898); a chapter in Samuel A. Eliot, Heralds of a Liberal Faith, vol. 3 (1910); Thomas D. Wintle, "Gentle Prophet of the Liberal Soul," in A New England Village Church: The First Church in Lancaster (1985); an entry by David B. Eller in American National Biography (1999); and a 1998 paper for Andover Newton Theological School by Madeleine M. Sifantus, "Edmund Hamilton Sears Biographical Sketch and Transcriptions of His Notebooks From 1834 and 1835." For information on Sears's role in denominational politics see Charles Lowe, A Statement in Regard to the Position and Policy of the American Unitarian Association: Chiefly in Reply to Letters by Rev. E.H. Sears and Rev. Francis E. Abbot (1868) and Conrad Wright, "Henry W. Bellows and the Organization of the National Conference," The Liberal Christians (1970). On how he was viewed by Lydia Maria Child, see Carolyn L. Karcher, The First Woman In the Republic: A Cultural Biography of Lydia Maria Child (1994) and Milton Meltzer and Patricia G. Holland, editors, Lydia Maria Child: Selected Letters, 1817-1880 (1982). For an angle on Sears's theology see Daniel Walker Howe, "The Cambridge Platonists of Old England and the Cambridge Platonists of New England," in Conrad Edick Wright, American Unitarianism, 1805-1865 (1989). There is information on the most famous carol in Kenneth Sawyer, The Christmas Homily: It Came Upon the Midnight Clear (1997); Erik Routley, The English Carol (1958) and Ian Bradley, The Penguin Book of Carols (1999) provide modern non-Unitarian Universalist analysis and evaluation.
Article by Peter Hughes
Posted April 24, 2002