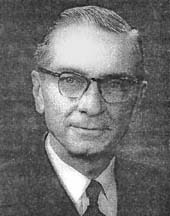 Ellsworth C. Reamon (July 6, 1895-November 9, 1983), an active Universalist and Unitarian Universalist parish minister for 55 years, held a number of important denominational positions, including the presidency of the Universalist Church of America (UCA), and was a leader in the opposition to Unitarian-Universalist consolidation.
Born into a Universalist family in Fort Plain, New York, Ellsworth was one of eight children of Charles Henry and Ellen Mary (Peacock) Reamon. In 1897 he moved with his parents to Watertown, New York, where he spent his early life. After graduating from high school he served for two years as a reporter for the Watertown Standard before entering St. Lawrence University and its Theological School in 1916.
Graduating in 1921 with B.S. and B.D. degrees, he was ordained that fall at the Universalist Church of the Redeemer in Minneapolis (later renamed First Universalist Church) and took a position there as assistant minister and director of young people's work. In 1925-26, during the illness of the church's senior minister, Marion Shutter, he served as acting minister. While in Minneapolis he worked as a volunteer at the church-related Unity Settlement House and did graduate work in psychology at the University of Minnesota.
Reamon's next settlement was at the First Universalist Church of Lansing, Michigan, 1927-32. While there Ellsworth married Hope J. Morisette, who worked closely with him in the churches he served, especially in the religious education and women's programs. The couple had two daughters, Carolyn Hope McMahon and Judith Anne Ingison, both of whom became active Unitarian Universalists. At one point mother and both daughters were all serving as directors of religious education in separate churches.
In 1932 Reamon accepted a call to Betts Memorial Church in Syracuse (later renamed First Universalist Church) and helped the congregation through a difficult transition following a 43 year ministry. During his own long ministry he shepherded the church through the Great Depression, the Second World War, controversy over Unitarian-Universalist consolidation, a move from the city's center to new facilities at the city's edge, and establishment of an outstanding music program. He served in Syracuse until retirement in 1970 at age 75.
Reamon was widely respected for his forthrightness, his integrity, his commitment to the church and its ministry, and his many contributions to the communities in which he served. His colleagues considered him without peer as a pastor. He was well known for his conscientious visiting of the sick and shut-ins—in 1968 he reported making 423 parish calls. "I firmly believe that there is a still a place for intelligent parish calling on the part of the minister," he wrote during the latter part of his ministry. "If the minister does not share actively in the joys and sorrows of his people, if he does not share in their home life, his preaching is bound to suffer and there will be an emptiness or dryness in the whole relationship. He must of necessity spend [much] time on personal counseling, especially in a city parish."
Among Reamon's many denominational positions were: president, Young Peoples Christian Union; president, Michigan State Convention of Universalists; president, New York State Convention of Universalists; chair, Universalist War Relief Fund; chair, board of trustees, St. Lawrence University Theological School; and board member, St. Lawrence Foundation for Theological Education. He was a trustee of the UCA, 1939-47; its president, 1943-47; and a member of the joint commission exploring federal union of the UCA and the American Unitarian Association, 1949-51.
In the midst of the Second World War, when Reamon assumed the presidency of the UCA, Universalists were disunited and demoralized. He worked hard to help rebuild the denomination, presiding at board meetings and General Assemblies, visiting state conventions, giving speeches, writing letters, and keeping in close communication with General Superintendent Robert Cummins—this while meeting the demands of serving a large church. During his tenure the Universalist Service Committee was established and a Department of Education organized. In 1947 he reported to the General Assembly that of the three objectives of his presidency one had been achieved, namely, a balanced denominational budget. Significant progress had been made toward achievement of the other two, "better feeling among our people, and better relations with our Unitarian friends." He also identified unmet needs: more men and women trained for responsible church leadership, reorganization of the denominational structure, and identification of a shared theological base.
In 1959 Reamon helped lead a last-ditch fight in opposition to merger, becoming co-leader of Universalists and Unitarians for Cooperation without Consolidation. Nevertheless, when a vote at the joint Unitarian-Universalist biennial meeting later that year effectively insured consolidation, Reamon participated in a celebratory service the next morning. When consolidation was formally accomplished two years later, he gave the Unitarian Universalist Association his loyal support, at the same time working to keep the Universalist component of the new denomination strong.
Theologically, Reamon was a staunch Universalist Christian. "In my opinion," he wrote in 1947, "the greatest tragedy that could befall the Universalist Church . . . would be the denial of the Lordship of Jesus. Loyalty to Jesus as our 'spiritual authority' is and should remain the one basic loyalty which binds us all together." Thus in the period following World War II he opposed attempts to redefine Universalism as "a religion for one world," inclusive of all faiths. Likewise, he opposed attempts to combine Universalism with Unitarianism, regarding the latter as overly rational and humanistic and fearing that Universalism would lose its identity.
Nonetheless, Reamon was non-dogmatic about Universalist faith, pointing out that it had limits. "It cannot protect you from hazard or doubt. It does not even pretend to guarantee that you will escape 'hell' in this life; nor does it offer a through ticket to 'heaven.' It will not save you from the peril of thought, nor does it offer any guarantee of peace of mind or serenity of spirit. It can help you to achieve something of your divine birthright: to grow as a child of God should grow. If the Garden of Eden allegory means anything, it means that man has been given the choice of which way he will go: whether he will live essentially as an animal, or whether, while walking the face of the earth, he will lift his eyes unto the hills of reason, beauty, goodwill, insight and compassion. The choice is largely his!"
Although often described as a conservative, he asserted in a 1978 sermon that he had "been a liberal all his life," defining a liberal as "one who has tolerance for the views of others, no matter how distasteful; who favors needed reform in politics, education, morals, ethics, and philosophy; who welcomes scientific research; and who has the courage to defend the truth as he sees it." He advised that "if you call yourself a liberal, don't waste too much time contemplating the beliefs and articles of faith which you can no longer honestly accept. Be done with them. Give thought and study to building a workable faith that will help you to overcome the tragic inevitables of life." He had long believed that "religion is not a matter of creeds, dogma, ritual and noble sentiments . . . playthings for the Sabbath. . . . It needs to be a power for good . . . finding daily expression in the lives of those who claim to be the children of God."
Following retirement Reamon accepted a call to the Universalist Church of Tarpon Springs, Florida, serving there until 1976. He then moved to Brattleboro, Vermont, becoming an active member of the First Universalist Church of West Chesterfield, New Hampshire. As minister emeritus he returned to Syracuse each June to preach from his former pulpit. A long-time member of the Fraters of the Wayside Inn, he found renewal at the group's annual retreats.
Death
Reamon died at his home in Brattleboro. A memorial service was held at the First Universalist Church of Syracuse, following interment in Oakwood Cemetery.
Sources
Documents relating to Ellsworth Reamon are in the Universalist Collection and Fraters of the Wayside Inn Archives, both at Andover-Harvard Theological Library in Cambridge, Massachusetts. There are also papers and unpublished sermons in the possession of Reamon's daughter, Judith Anne Ingison. Reamon's writings and references to his work are in the Christian Leader, the Universalist Leader, UUA Ministerial Record Sheet, and the Empire State Universalist. One of his addresses has been published in Harold H. Burkart, editor, The Universalist Heritage (1992). Although no other biography has yet been written, there is some account of Reamon's career in Russell Miller, The Larger Hope, volume 2 (1985) and David S. Blanchard, One Hundred Forty Fruitful Years: A History ot the First UU Society of Syracuse (2001). There is an obituary in the UUA Directory (1984).
Article by Charles A. Howe
Posted August 17, 2002