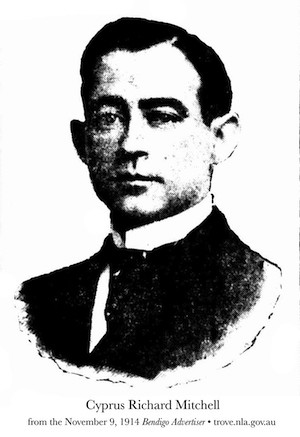 Cyprus Richard Mitchell (April 5, 1881-January 27, 1955) was a liberal Australian minister who lived, worked, and studied in America. During the First World War, he worked in Russia for the YMCA. After starting his career with the Disciples of Christ he soon moved on more liberal congregations. In his later years he led Unitarian congregations in Australia and New Zealand.
Born in Coomooroo, Clare, South Australia in 1881, he was the eldest child and only boy of four children born to Catherine (McDonald) and William Cyprus Mitchell. Life was not easy for the family; his parents divorced in 1898. As a young man, he spent time in Western Australia hunting kangaroos, chopping wood, and working in the Kalgoorlie gold-field and the Phillips River copper-field.
While working in Birchip, Victoria, Australia he joined the Church of Christ. Later working for H. B. Leng, a Church of Christ minister at Ballarat, Victoria, Australia, he undertook his own education. In 1905 he moved to Eureka, Illinois in America to study for the ministry at Eureka College. As a student he preached at churches in Illinois and Indiana. In 1911, Eureka College granted him a BA. The college had been established in 1855 by abolitionist members of the Christian Church (Disciples of Christ). Mitchell was ordained by the Disciples of Christ on June 18, 1911 and was called to his first pastorate in Cooksville, Illinois.
He attended the Bible College of Missouri located in Columbia, Missouri, 1912-13; Union Theological Seminary, New York, New York, 1913-14; and the University of Missouri in Columbia, Missouri where he completed an MA in 1914 with a thesis on "Pragmatism in John Henry Cardinal Newman." After graduation, he spent a year preaching in Bendigo, Victoria, Australia before returning to America.
While at the University of Chicago where he studied for two quarters, he was recruited into the YMCA for service in Russia. He entered that country via Japan in 1917 becoming one of over 400 YMCA officials in Russia during the period 1917-1921. Mitchell was in charge of the Association's work with the Russian army in Kazan on the Volga River during the civil war, and in November 1918 was in Moscow, a year after the Bolshevists came to power. After 15 months in Russia, he went to London where he filed his final report at YMCA headquarters. Returning to America in October 1919, he was called to the ministry at the First Christian Church in Sikeston, Missouri. Subsequently, he entered Yale University in New Haven, Connecticut and graduated BD in 1923.
He enrolled to study for a BLitt degree at the University of Oxford (England) in 1923, proposing to continue his study of John Henry Cardinal Newman, but he did not complete the degree. Between 1924 and 1926, he was Chaplain at the Veterans Hospital in New Haven, Connecticut.
Returning to Melbourne, Australia, he was appointed director of religious education for the local branch of the YMCA. He gave that up in February 1927 to take the associate minister position at the Australian Church, a free or non-sectarian congregation led by Charles Strong, a former Presbyterian minister. Mitchell married Lillian McCashney in a service held at the Australian Church. He was "an able and helpful colleague" until he resigned in April 1928. Later that year the Mitchells moved to America where Cyprus became pastor to the Congregational Federated Church in Pullman, Washington. He separated from Lillian and went to study at Yale, completing his PhD in 1931 with a dissertation on "Cardinal Newman's Theory of Religious Knowledge." Lillian remained in America when he returned to Australia. She became a naturalized U.S. citizen in 1936, and supported herself as matron at the Ryther Child's Home in Seattle, Washington.
Back in Australia, Mitchell preached as a supply minister at the Melbourne Unitarian Church in 1933. He took ministerial charge of the Wellington, New Zealand Unitarian Free Church in March 1934. He exchanged pulpits with William Jellie (1865-1963), the Unitarian minister in Auckland, New Zealand in April 1935. Within a year, Mitchell moved to Auckland. His induction into the Auckland Unitarian Church on March 1, 1936 was broadcast from Radio 1YX. His Auckland ministry was successful, particularly with radio broadcasts and his missionary work outside Auckland. He introduced The Torch in place of the Church's Calendar each month. It was while in Auckland that he obtained a divorce from Lillian.
Mitchell returned to Australia in September 1939, his sixtieth year, but it is not known if he resumed church work. He did, however maintain his friendship with Miles Franklin (1879-1954), the eminent feminist litterateur who wrote My Brilliant Career (1901). By 1951 Cyprus Mitchell was in a convalescent hospital suffering from Parkinson's disease and rheumatoid arthritis. Miles wrote to him from Carlton, New South Wales, that she "was sorry I could not make a second visit to you. . . but I am so glad I saw you once again," and said she had since heard he had been moved to another hospital near Melbourne. Like Cyprus she had spent many years in America and went on to lament that "All my old American associates are passing. . . ."
Sources
Cyprus Mitchell's YMCA service records are in the Kautz Family YMCA Archives, Andersen Library, University of Minnesota in Minneapolis, Minnesota. Additional minor records are found in the archives of the University of Oxford in Oxford, England. A 1952 letter from Miles Franklin to Mitchell is in the Rivett Family Correspondence, National Library of Australia, Canberra, Australia. Information on Mitchell's education can be found in the Alumni Catalogue of the Union Theological Seminary: 1836-1936, (1937); Missouri Alumnus (1915); and Nathaniel Smith Haynes, History of the Disciples of Christ in Illinois, 1819-1914 (1914).
Biographical information on Mitchell is available in three Australian newspaper articles, "New Evangelist: Interesting Personality," The Bendigo Advertiser (1914); "Clergyman Who Once Humped His Bluey," Barrier Miner, Broken Hill, New South Wales, Australia (1935); and "A Varied Career: Clergyman's Return," in The West Australian, Perth, West Australia (1935). The newspaper articles along with additional reportage and advertisements are in the National Library of Australia (NLA) and can be accessed on-line at trove.nla.gov.au. Secondary sources that proved useful include, Colin Roger Badger, The Reverend Charles Strong and the Australian Church, (1971); and Jill Roe, "Franklin, Stella Maria Sarah Miles (1879-1954)," Australian Dictionary of Biography.
Article by Wayne Facer
Posted December 16, 2013