The Humiliati, composed mostly of young Universalist ministers recently graduated from the School of Religion of Tufts College in Medford, Massachusetts, was organized in 1945 and met annually until 1954. These ministers had greatly valued their theological discussions at Tufts and decided to meet regularly to continue studies and friendships begun there and also to consider how the Universalist Church of America (UCA) might be revitalized. They saw their denomination as growing moribund, having lost its theological distinction as liberal Protestant churches continued to minimize the threat of hellfire. Meetings fostered theological depth and camaraderie among members who did, in fact, help to redefine and renew the Universalist movement.
The name they chose, meaning "the humble ones," they took from an ancient Italian monastic order. Charter members of the Humiliati were Gordon McKeeman, Albert Ziegler, Earle McKinney, Raymond Hopkins, David Cole, Frederick Harrison, Charles Vickery, and Albert Harkins. Keith Munson and Leon Fay, both Tufts alumni, joined the group later. Harkins, never a student at Tufts, had come to the Universalist ministry from an Evangelical Lutheran background. Neither he nor Fay, a Unitarian, were more than marginally involved.
The Humiliati patterned their organization after that of the Fraters, a group of leading Universalist ministers who had met each January since 1903 at the Wayside Inn in Sudbury, Massachusetts. The Humiliati held their convocations annually, usually in January, at various places in eastern Massachusetts. They met "for communal study and worship." Authority to plan and lead the convocations and two "rump" sessions was concentrated in the office of "Abbot," a position that was rotated among the members. The rule stipulated, "The request of the Abbot on all matters touching the Humiliati shall be obeyed." Adoption of new policies or admission of new members required unanimous consent of the members. All meeting expenses, including transportation, were shared equally by the members.
The Humiliati held their first convocation at Tufts in 1946 with McKeeman as Abbot. The subject, announced in advance along with a required reading list, was "The Philosophical Bases of Liberal Religion." Ziegler presented the functional theology he had developed in his S.T.B. thesis. Later meetings addressed such topics as personal discipline, commitment, worship, ministry, and creeds.
Under Ziegler's leadership and much influenced by the teachings of two Tufts professors, Clarence Skinner and Bruce Brotherston, the Humiliati developed a distinct theological position. They called it "emergent Universalism" which they described as at once "functional, naturalistic, theistic and humanistic." They moved away from Clarence Skinner's emphasis on the Social Gospel, having becoming convinced that growth and renewal of the spirit must precede ministerial social action. They retained Skinner's insistence that religion should be functional; that is, integrated into the rest of life, including matters of social justice. Central to their thinking was Brotherston's "impulse theology" which posited a hunger of the spirit in every living thing, expressed as an urge toward wholeness. They deemed their articulation of this natural and sacred "impulse" consistent with Hosea Ballou's statement that "God has a good intention in every volition of man," or, as Ballou also said, "Every individual always does what he deems best for himself at that moment."
The Humiliati stressed that human beings are impelled, not compelled, by the power of God to fulfill the good potential of their lives. The impulse toward wholeness in humanity is predisposed to good, though it can be weakened or distorted by chaos and conflict. Authentic worship keeps it alive and restores its integrity. To rekindle the Universalist spirit, the Humiliati aimed to free their worship services from stale intellectualism and to enrich them with new liturgical forms, vestments and symbols. They broadcast their theology and innovations in worship through publications, Theologically Speaking and Ceremonies for Special Services. They also participated prominently in the agenda of Universalist assemblies. That the Humiliati wore clerical collars and also worked actively in Universalist elections—sometimes supporting progressive candidates with "bullet balloting"—made them hard to overlook.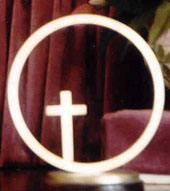 Initially these "young Turks" had many detractors. Fellow Universalists criticized their "emergent Universalist theology" as full of inconsistencies, and worse, as an unwarranted break with Christianity. Critics took issue with their symbol, a circle which enclosed an off-centered cross. The symbol was designed to represent an all-inclusive Universalism, rooted-though not centered-in Christianity and freely open to other traditions.
The symbol caused a minor controversy when it was first used publicly at McKinney's ordination. Controversy arose, too, when Cole insisted on being ordained to the Universalist, rather than the Christian, ministry. But in time, though the Humiliati's theological and liturgical innovations were by no means widely embraced, they were recognized as honest and important attempts at renewal. Eventually their symbol was widely used.
In time members of the Humiliati themselves moved in various ways beyond the theology they had earlier upheld. It was, after all, a unique and sometimes contradictory blend of determinism and free will, of Ballou and Brotherston, and of "functional, naturalistic, theistic, and humanistic" emphases. Nevertheless, it had served their purposes well at a crucial time. The Humiliati made a strong and lasting mark on the UCA. They enlivened it and further opened the way for consolidation with the American Unitarian Association (AUA).
Almost all of the Humiliati were able parish ministers. Most took on positions of leadership in the UCA and later in the Unitarian Universalist Association (UUA). Hopkins served on the Joint Merger Commission and later as the first UUA executive vice president. McKeeman was elected to two terms on the UUA Board of Trustees, served as president of the Unitarian Universalist Service Committee and was president of the Starr King School for the Ministry. Vickery held leadership positions on the Universalist and Unitarian Universalist Service Committees. Munson chaired the Joint Interim Committee that recommended merger. Harrison was superintendent of the Massachusetts and Connecticut Universalist state conventions. Fay was appointed director of the UUA Department of Ministry. Ziegler and McKinney were both UUA district executives. Cole gained a reputation as an effective social activist and thereafter served some of the UUA's largest congregations with distinction.
By 1954 the Humiliati felt they had fulfilled their original purposes, the spiritual renewal of its members and, to a certain extent, of the Universalist denomination. They stopped meeting, though McKeeman, by then elected "Abbott for Life," could presumably have convened them. Most members kept in close touch. In time McKeeman, Ziegler, McKinney, Hopkins, Cole and Munson joined the Fraters of the Wayside Inn.
Sources
The Humiliati records, including correspondence, scribe's reports, papers, programs, ritual and rule, and publications, are at the Andover-Harvard Theological Library in Cambridge, Massachusetts. Information on this group can also be found in the Christian Leader (renamed Universalist Leader in 1953). Patricia McClellan Bowen, "The Humiliati of Tufts: a Model for Renewal in Religion," unpublished D.Min. Thesis, Meadville/Lombard Theological School (1978); Gordon McKeeman, "The Humiliati," an unpublished paper presented to the history section of Collegium (1987); and Mark Belletini, "Sacramentarianism among 20th-Century Unitarians and Universalists," Regaining Historical Consciousness: Proceedings of the Earl Morse Wilbur History Colloquium (1994) are important studies. See also George Huntston Williams, American Universalism (1971); Russell Miller, The Larger Hope, vol. 2 (1985); and Charles A. Howe, The Larger Faith (1993). The author consulted with Gordon McKeeman in the preparation of this article.
Article by Charles A. Howe
Posted January 24, 2003