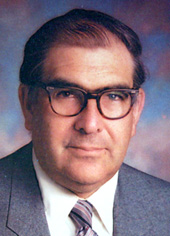 Robert Edward Green (September 30, 1934-January 15, 2003) was a religious humanist and Unitarian Universalist minister who served churches in Massachusetts, Ohio, Vermont, Michigan, and, for 23 years, the First Unitarian Universalist Church, Stockton, California. Also a social activist lawyer, he founded, co-founded, and promoted numerous organizations and endeavors in Stockton to help feed and house low-income people, to protect their civil rights and rights as consumers, and to give them legal assistance.
Green was born in San Francisco, California. His father, Herman Green (originally Greunapfel), whose family was from Austria-Hungary, worked for the Navy moving its personnel from base to base. His mother was Frances (nee Smolensky), a housewife. Bob was educated in the city's public schools and raised as a Jew. When he was studying for his bar mitzvah, however, he questioned his family's faith and left Judaism.
In 1952, upon graduating from high school, Green entered the University of California at Berkeley. Already interested in the law, at the same time he started to work as a law clerk for the San Francisco legal firm of Morrison, Forester, Holloway, Shuman, & Clark. In 1954 the University of California awarded him the Associate of Arts degree. Continuing to hold various positions for the law firm, he entered Hastings College of Law at the University of California. He graduated in 1958 with his J.D.
He met Carole Ann Perttula who was studying Elementary Education at San Francisco State College in 1956. They were married in 1957 at the Peninsula Covenant Church in Redwood City. Carole graduated that spring and taught until they adopted three children. When the children were older, she returned to full time teaching. After their marriage the Greens lived in the Redwood City area and then in San Diego, California where Bob, admitted to the California Bar in 1959, worked as a Claims Adjuster for the Farmers Insurance Exchange, 1959-60.
One Sunday the Greens went to the Unitarian Church in San Francisco to hear the popular but controversial visiting preacher, Stephen Fritchman. This sparked Bob's interest in liberal religion. He soon became involved in the church's programs. When they moved to San Diego he and Carole were active in the Unitarian Universalist Church there. After two years of working as a lawyer, Green decided that he "needed a better way in which to fulfill my life and hopes." That way, he decided, was to become a Unitarian Universalist minister. At the urging of the San Diego minister, John Ruskin Clark, who was concerned that Green was too provincial, having never lived anywhere but in California, Green attended the Crane Theological School at Tufts University in Medford, Massachusetts, 1960-63. Beginning in 1961 he served as student minister of the nearby First Parish Unitarian Universalist Church in Saugus, Massachusetts, and, having earned his B.D., was ordained there in 1963.
Green's concept of religious living was derived from a belief in humanism as the basis of religion. "The essence of humanism," he wrote, "is a conviction that only human beings will reach human goals. Reliance on God and on the gods have gotten us nowhere. The reality of life is life—life as individual existence and life as a part of human society. Only in that context may we discover our moral values."
His first settlement was the First Universalist Church, North Olmsted, Ohio, 1963-65. The North Olmsted Church building, erected in 1847, on the Register of Historic Buildings, had just been moved to a new site. Green oversaw the erection of a religious education and office wing, which was dedicated in 1964.
In 1965 Green resigned from North Olmsted to spend a year in Tokyo, Japan. There he and his wife were emissaries from the Unitarian Universalist Association (UUA) and the Japan Free Religious Association. While teaching English at a school run by Rissho Kosei-Kai he surveyed the future of liberal religion in the country. "I became aware," he reported in the Register-Leader, that "its success in Japan rests upon the utilization of the local cultural and religious milieu." Further, it must then "reach out and inform people that here is a liberal-religious organization which is open to them."
After his service in Japan, Green served the All Souls Church, Universalist Unitarian, Brattleboro, Vermont, 1967-70, and the Unitarian Universalist Church, Lansing, Michigan, 1970-74. Both groups were in the process of relocating their churches: in Brattleboro, to a new chalet-style building on a hill in West Brattleboro and, in Lansing, to an older building remodeled as a church. Green participated in the planning of both these moves.
In a period of national turmoil, Green strongly opposed the Vietnam War and endorsed racial integration. Racism, he said, was the "result of our apathy, of our unwillingness to grant the reasonable demands of our black citizens." Urged for a century, these demands "would not take anything from us," he said but would bring "Americans who happen to have a black skin to the equality that we envision for mankind." While he held firm opinions, and defended them stoutly and forcefully, his favorite line was, to conclude an argument: "You have an inalienable right to be wrong."
In 1974 Green was called to the First Unitarian Universalist Church of Stockton, in his beloved California. He served the society and the Stockton community for 23 years, and probably would have for longer had he not lost the sight in one of his eyes. The Stockton Record termed him a "community powerhouse" and "an atheist completely committed to the ministry of people." That service was enhanced when he renewed his membership in the California Bar Association.
Green served as president or coordinator of the Stockton Metro Ministry (SMM) throughout his ministry. The SMM was a non-profit, interfaith group active in education, in family/child care, and in meeting the needs of young people and the homeless. He was a co-founder of the Stockton Shelter for the Homeless and served on the board of St. Mary's Interfaith Dining Room. With others, he created the San Joaquin Family Resource and Referral Center which found subsidies for low-income families and financial support to assure nutritious meals for children. He also established in 1987 the Emergency Food and Shelter Coordinating Committee and, in 1988, the Affordable Housing Coalition
In 1974 Green served on the Stockton Unified School District's Desegregation Committee (SUSD). He was the attorney for those who offered support in the landmark Hernandez vs. Board of Education of SUSD desegregation lawsuit. In 1986 he was on the district's Committee to Keep Students in School. In addition he furthered the work of the Stockton Chapter of the American Civil Liberties Union and the Stockton Human Rights Task Force. He supported the local Planned Parenthood organization, the California Federation of Memorial and Funeral Societies, for which he acted as their Legal Counsel, and was founder of the San Joaquin Memorial Society, now Funeral Consumers Alliance. He also personally took care of people who needed help. He wrote wills, filled out tax forms, composed letters, gave advice, complained to bureaucrats, managed real estate transactions, and acted as an advocate. He did all of these things as a part of his ministerial calling.
Green's contribution to the Stockton and San Joaquin community was widely recognized. The honors given him included the first Golden Key Outstanding Citizen Award from the Stockton Teachers Association, 1985; the Service to Mankind Award from the Sertoma Club, 1989; the Golden Hand Award from the J.C. Penny Foundation, 1989; the Quality of Life Award from the Land Utilization Alliance, 1990; the Unitarian Universalist Social Justice Hall of Fame Award, 1996; and the Pacific District "Living Our UU Values" Award, 1999.
When he retired in 1997, the congregation made Green their Minister Emeritus. He moved to Sonora, California, preached occasionally at the Tuolumme Unitarian Universalist Fellowship there, continued to do some law practice, mostly in the field of estate planning and probate work, and served as an Arbitrator for the Tuolumme County Superior Court. He drafted two unpublished book-lengthen manuscripts: one, on understanding the Bible for religious liberals and, the other, a history of Unitarian Universalism.
Green died from melanoma cancer. A memorial service was held at the Stockton Unitarian Universalist Church with his longtime friend, Eugene R. Widrick, delivering the Eulogy. A celebration of his life was observed during a Sunday service at the Tuolumme Fellowship. The Stockton Church created the Robert E. Green Scholarship for a graduating high school student and the Stockton Metro Ministry, the Robert Edward Green Unity in Community Award to be given annually to an individual or group which has endeavored to make Stockton a better place in which to live.
Sources
Green's papers and a ministerial file of his activities are at the Andover-Harvard Theological Library, Harvard Divinity School in Cambridge, Massachusetts. There is a ministerial file at the UUA in Boston. The Andover-Harvard Theological Library has an extensive collection of his printed sermons on microfilm. See also "Liberal Religion in Japan A Movement with Unrealized Potential," Register-Leader (June 1967); "Elements of Humanism," Unitarian Universalist Views of Humanism (1972); and "Moral Majority Misconceptions of Humanism," Religious Humanism (Winter 1982). For an appreciation of his life see the "Eulogy" prepared by Eugene R. Widrick. Obituaries are in the Stockton, California Record (January 18, 2003); the Sonora, California Union Democrat (January 27, 2003); the UU World (May/June 2003); and the UUA Directory (2003-2004).
Article by Alan Seaburg and Eugene R. Widrick
Posted March 12, 2008