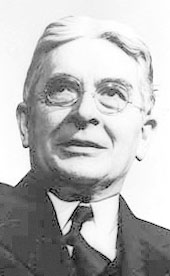 Frederick May Eliot (September 15, 1889-February 17, 1958), longtime minister of Unity Church, St. Paul, Minnesota and Chair of the Unitarian Commission on Appraisal, served as President of the American Unitarian Association (AUA) for twenty years, guiding the denomination through a period of growth and helping it to better communicate its liberal religious faith.
Frederick was born in Boston, Massachusetts to Christopher Rhodes Eliot and Mary Jackson May. His family, on both sides, included many prominent Unitarian leaders. His father was minister of the First Church, Dorchester, 1882-93, and then of the Bulfinch Place Church, Boston, 1894-1927. His grandfather, William Greenleaf Eliot, Jr., served the Church of the Messiah (Unitarian), St. Louis, 1834-73, and helped to establish Washington University. His uncle, Thomas Lamb Eliot, minister of the First Unitarian Society, Portland, Oregon, 1867-93, and one of the founders of Reed College. His great-uncle, the Unitarian minister Samuel May, Jr., was the General Agent of the Massachusetts Anti-Slavery Society, 1847-65. Frederick and his two younger sisters, Martha May Eliot and Abigail Adams Eliot, grew up in a townhouse on Beacon Hill. His sisters went on to have distinguished careers, Martha in medicine and Abigail in nursery school education. The three children played in the Boston Common and the Public Gardens—often with their cousin, T. S. Eliot, later a major twentieth century poet. Summers were spent on a lake at the family camp in Canada.
Frederick was educated at the Prince Grammar School and at Roxbury Latin, from which he graduated in 1907. He entered Harvard College, majored in Government, graduating summa cum laude in 1911. He spent the next year in Europe, on a Sheldon Fellowship, studying how local governments functioned. This earned him in an M.A. from Harvard, 1912, and led to an instructorship in government, 1912-13.
Although tempted by a career in government, in 1911 Eliot decided to enter the ministry. He attended Harvard Divinity School, 1912-15. He was ordained in 1915 at the First Parish, Cambridge, Massachusetts. For the next two years he served this church as associate to the senior minister, Samuel McChord Crothers. Crothers influenced him greatly. In 1930 he honored his mentor in Samuel McChord Crothers: Interpreter of Life. Eliot was President of the continental Young People's Religious Union, 1916-18. While a Harvard undergraduate he had met his future wife, Elizabeth Berkeley Lee. They were married in 1915. In the 1930s they adopted two boys.
In 1917 Eliot was called to Unity Church, St. Paul, Minnesota. He accepted with the stipulation that he be allowed to serve as an army chaplain. The church agreed to a year's leave of absence, 1918-19, which he spent at a military hospital in Tours, France.
During Eliot's twenty years in St. Paul, the church, as a lay member observed, "developed phenomenally." Membership increased and a vigorous religious education program resulted in the construction of an education building and a children's chapel. Eliot's work in the larger community was so significant that at one point he was urged by some of its leading citizens to run for Mayor. Although offered other attractive opportunities over the years, he refused them all because he felt, as he told his father in 1926, that "We have the makings of a great church here." Parish ministry was for Eliot the highest privilege that a denomination had to offer.
In 1920 Beacon Press published Eliot's Sunday School textbook, The Unwrought Iron: an Introduction to Religion. During his ministry in St. Paul, he wrote several short booklets, published by Unity Church: Fundamentals of Unitarian Faith, 1926; Toward Belief in God, 1925; and Prayers Spoken in Unity Church, Saint Paul, 1932. All of these proclaimed his Liberal Christian theism.
During the 1930s Eliot received three honorary degrees: from Carlton College in Minnesota (D.D., 1935), Meadville Theological School (D.D., 1937), and the University of Minnesota (LL.D., 1937).
In 1934 Eliot agreed to be chair of the AUA's Commission on Appraisal. For the next three years, while remaining minister of Unity Church, he carried out the Commission's mandate to survey the way the denomination worked and to suggest improvements. In 1936 the Commission published its finding, Unitarians Face a New Age. The delegates at the annual meeting of the AUA that year received it—in Eliot's words—"most cordially." He felt that they had given the Commission "a very definite endorsement."
In 1937 the AUA prepared to elect a new president who would be responsible for making the recommendations of the Commission on Appraisal a reality. Eliot, who had been reluctant to seek the office, finally agreed to run after prolonged discussions with Leslie T. Pennington, Chair of the Nomination Committee. The other candidate, Charles Joy, withdrew just prior to the annual meeting. Eliot was re-elected five times and held the office until his death in 1958.
The period during which Eliot led the AUA was considered by his contemporaries as a vital, vigorous, and productive period for Unitarians. Church membership more than doubled. Enthusiasm for Unitarian ideas and theology flourished. Carol Morris, in her dissertation on Eliot, referred to this period as "a twentieth century Renaissance" for the denomination. Later Unitarian scholars also adopted her terminology.
During Eliot's tenure many of the programs and services the AUA offered were revised and several new ones initiated. Soon after he assumed office, the AUA completely abandoned the older religious education curriculum and, under the creative leadership of Ernest W. Kuebler and Sophia Lyon Fahs, began to develop a new approach, The New Beacon Series in Religious Education. The Beacon Press dramatically expanded and enlarged the scope of its publications, becoming a commercially competitive publisher. In 1940, when the atrocities of the Nazis became known, the Unitarian Service Committee was established to assist people in need, especially, at that time, those in Europe. In 1944 Eliot helped create the Church of the Larger Fellowship (CLF), an attempt to better serve unchurched Unitarians. Munroe Husbands, director of fellowships and associate director of extension of the AUA, encouraged lay-led groups to establish Unitarian fellowships, many of which later grew to become churches. A significant part of Unitarian growth in numbers was due to the Fellowship movement and the activities of the CLF.
One of the most painful episodes of Eliot's presidency concerned Stephen H. Fritchman, the editor of The Christian Register, 1942-47. At that time the Register operated outside the direct AUA administrative structure. Fritchman, a capable editor and minister, held strong views on political and social matters, which some thought Communist. Both Eliot and Fritchman believed in free speech, but Eliot also thought that final control of the chief Unitarian publication belonged to the elected president and the board of directors. Eventually the AUA dismissed Fritchman. The Register then became exclusively a house organ.
During Eliot's years as the Unitarian leader, the AUA and the Universalist Church of America explored union of some kind. One step in that direction was the Council of Liberal Churches, 1953. That consolidation finally occurred in 1961 was partly due to Eliot's consistent support. His vision, however, was larger than the union of the Unitarians and the Universalists. His dream, shared by Dana McLean Greeley, his successor as president, was the establishment of a "universal liberal church."
In 1939 Eliot gave a series of radio addresses, published as Unitarians Believe. "What we require," he said, "is faith in ourselves, faith in the reality of our hopes. We need faith in the truth as we discover it by the use of our own human powers of observation and reason. We need faith in the universe of which we are a part, of which our ideals are a part."
Always interested in education, Eliot was a Trustee (and at the time of his death, President) of the Board of Mount Holyoke College, 1940-58. In 1958 the College awarded him an LL.D. He also served on the Boards of Proctor Academy and the Hackley School. Twice he was the Chaplain of the Massachusetts State Senate, 1945-48 and 1951-58. In addition he was on the Board of the Massachusetts Bible Society, 1951-58, a director of the American Civil Liberties Union, and a Fellow of the American Academy of Arts and Sciences.
Although Eliot had a good sense of humor, he was also very sensitive. His friend, Judge Lawrence G. Brooks, noted, "Opposition and criticism vexed him and he, not infrequently, showed his vexation." His contemporaries saw him as a person of immense dedication to the cause of religious liberalism and an able advocate of its beliefs. There were, however, some that felt that he remained as AUA president too long.
Eliot died suddenly, from a massive heart attack, as he was entering the courtyard of All Souls Unitarian Church in New York. A memorial service was held at the First Parish in Cambridge. His friend and successor at St. Paul, Dr. Wallace W. Robbins, gave the address. In 1959 Beacon Press published Frederick May Eliot: An Anthology. That same year the AUA purchased an office building behind its headquarters and named it for Eliot. Today it is a UUA guest house. In 1961 Mount Holyoke College erected Eliot House, a center for campus religious life.
Sources
Eliot's private papers (1896-58), his AUA presidential papers (1937-58), and his AUA Ministerial File are at the Andover-Harvard Theological Library, Harvard Divinity School. His correspondence with Leslie T. Pennington concerning running for president is also there. In addition, many other collections at Harvard have Eliot material. Some of Eliot's works are collected in Alfred P. Stiernotte, Ed., Frederick May Eliot: An Anthology (1959). He also wrote Faith Forbids Fear, the AUA Lenten manual for 1943, and countless articles in The Unitarian/Christian Register. The only biographical study is Carol R. Morris, "Frederick May Eliot, President of the American Unitarian Association (1937-1958)," Ph.D. dissertation, Boston University, 1970. See also Lawrence G. Brooks, "Frederick May Eliot as I Knew Him," Proceedings of the Unitarian Historical Society (1960); Walter Donald Kring, "Frederick May Eliot: A Centennial Remembrance," Proceedings of the Unitarian Universalist Historical Society (1989); Carol R. Morris, "The Election of Frederick May Eliot to the Presidency of A.U.A.," Proceedings of the Unitarian Historical Society (1970-72); Carol R. Morris, "It was Noontime Here," in Conrad Wright, Ed., A Stream of Light: A Sesquicentennial History of American Unitarianism (1975); George N. Marshall, A. Powell Davies and His Times (1990). There are entries about Eliot in David Robinson, The Unitarians and the Universalists (1985); Mark W. Harris, Historical Dictionary of Unitarian Universalism (2004); American National Biography (1999) (by Conrad Wright); and Who Was Who in America (1951-60). There were tributes to his life and achievements in the Unitarian Register (March 1958).
Article by Alan Seaburg
Posted August 6, 2006