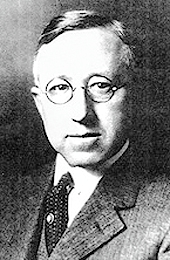 John Hassler Dietrich (1878-1957), minister for almost a quarter of a century at the First Unitarian Society in Minneapolis, Minnesota, was among the first Unitarian ministers to boldly preach that humanist thinking was the true foundation of religious liberalism. His addresses, which were heard and read by thousands, so popularized religious humanism that it has now become a significant element in Unitarian Universalism.
John Dietrich was born to a farming family of German-Swiss descent in Chambersburg, in the mountain region of southern Pennsylvania. His parents, Sarah Ann Sarbaugh and Jerome Dietrich, who had little formal education, were hard working and successful sharecroppers. They were devout members of the Reformed Church. When John was fifteen the family moved to the nearby community of Markes where his father raised pigeons. John went to Mercersburg Academy, a preparatory school four miles away, 1893-96. Having successfully completed the four-year course in three, he was selected as class valedictorian.
The following summer Dietrich worked for the New York Tribune Fresh Air Fund in the New York City slums. The money he earned helped him study at Franklin and Marshall College in Lancaster, Pennsylvania, 1896-1900. His goal was to become a Reformed Church minister. While at college he became friends with Albert C. Dieffenbach who was studying at the Reformed Church's Eastern Theological Seminary, also in Lancaster. Dieffenbach later became a Unitarian minister and editor of the Christian Register.
To earn the money needed to pay for his ministerial education, Dietrich taught mathematics and Latin at his old academy for a term, worked at the Tribune Fresh Air Fund for a few more months, then taught one year at the Nyack Military Academy. He studied at the Eastern Theological Seminary, 1902-05, was ordained in 1905 by the Pittsburgh Pennsylvania Synod, and became the minister of St. Mark's Reformed Church in Pittsburgh.
Because Dietrich was a popular preacher, attendance at St. Mark's Sunday services soon tripled and church membership doubled. However, he upset some members, especially those who contributed the most money, when he modernized the order of worship and introduced a new hymnbook edited by a Unitarian. Although the majority of church members stood by their minister, the situation continued to worsen and he ultimately resigned. At the behest of the orthodox ministers of the Allegheny Classis of the Reformed Church, he was charged with heresy for denying, among other things, the virgin birth, the deity of Jesus, and the infallibility of the Bible. A trial was scheduled, but not held because Dietrich refused to defend himself. As a result, in 1911 he was defrocked.
Among those who had supported Dietrich was his old friend Albert Dieffenbach, who shared many of his views and was also then serving a Reformed congregation in Pittsburgh. Walter Mason, the minister of the First Unitarian Church in Pittsburgh, was impressed with Dietrich and recommended to the American Unitarian Association (AUA) that they welcome Dietrich into the Unitarian ministry. In responding to their invitation Dietrich wrote: "I have been fighting hard for a liberal interpretation of religion in Pittsburgh for five years, and now I feel that I want to belong to the liberal movement, rather than to stand alone in an orthodox denomination which resists my every effort. I can assure you that I will come into the Unitarian Church with the earnest purpose of giving it my best efforts and doing every thing I can to further its cause."
In 1911 Dietrich moved to Spokane, Washington as minister of the First Unitarian Society. When he arrived the church had less than 60 members and a building which needed a major overhaul; when he left in 1916 the church had over 1500 people and gathered for worship in a new structure—the Clemmer Theater.
The following year Dietrich married Louise Erb, whom he had met when returning from a 1910 European tour. They had two sons. She died of cancer in 1931. In 1933 he married writer and poet Margaret Carleton Winston, a widow with three children. In 1942 she published an account of his life and thought, This Circle of Earth.
While in Spokane Dietrich began to look outside the Christian tradition for great religious exemplars. Among those whom he found were the Buddha, Confucius, the philosophers of Greece, and the prophets of the Old Testament. Having decided that the scientific method was the only acceptable approach to understanding truth, he reshaped his religious philosophy as naturalistic humanism. He found the term "humanism" in an essay by Frederick M. Gould, published by the British Ethical Societies. Gould had used it, not to denote the humanism associated with the Renaissance, but to mean "belief and trust in human effort." Dietrich was struck by the new idea of humanism and felt that it described his own growing understanding of the meaning of religion.
In 1916 Dietrich left Spokane for the First Unitarian Society of Minneapolis, Minnesota. Under Dietrich it flourished and he regularly preached to large congregations. For eleven years he reached even more people through the radio broadcasts of the church services. To accommodate everyone—usually more than 1,000—the congregation eventually had to hold services in the Garrick Theater.
The role of the church, Dietrich felt, was to teach. Therefore the minister's chief responsibility was the weekly sermon or lecture. His sermons became hour-long addresses preceded by readings, music, and a statement of aspiration. "I believe in all seriousness," he told his congregation, "that I am a minister, not of America nor of Minneapolis nor of Unitarianism nor even of this society, but of Righteousness." Yet he insisted that he would "never try to impose" his religious approach upon the congregation. "I shall rather try to stimulate and guide you in your thinking that you may work out your own conceptions of religion and mortality."
In 1917 Dietrich met Curtis W. Reese, another midwestern Unitarian minister who was advancing similar humanistic ideals. One difference between them was that Dietrich never rejected theism; he merely found no evidence for God. Working together, each with his own skills and abilities, they enlarged the philosophical base of the Unitarian movement. Reese published important books on the new interpretation of religion. Dietrich, who never wrote a book as such, produced instead a series of widely-read addresses. The majority of these were distributed by his society as The Humanist Pulpit, 1927-34.
As a result of the teachings and work of these two pioneers, Unitarian ministers and churches, and to a lesser extent Universalists, debated theism versus humanism. It was a discussion—controversial at times—that still occupies the attention of Unitarian Universalists today. It reached its first watershed in 1921 when Dietrich and William Laurence Sullivan, a former Roman Catholic priest who had converted to the Unitarian ministry and was a fiery theist, hotly debated the topic. The second was the publication of the Humanist Manifesto of 1933. That document, which Dietrich signed, encapsulated much of his own thought.
This Dietrich summarized in his AUA pamphlet "Humanism," 1934: "If we live in a great impersonal universe with no friend to guide, it matters tremendously how we conduct ourselves, for we are actually the makers of human destiny." Therefore, he continued, our responsibility "is to put beauty in place of ugliness, good in place of evil, laughter in place of tears; to dispel error with knowledge, hatred with love; displace strife and contention with peace and co-operation." Naturalistic humanism, he concluded, brought to him "a feeling of bliss, and with it the intense longing that I may so live that posterity may have this feeling more fully and more often, in the better world we ourselves must build."
In 1933 Meadville Theological School honored Dietrich's contributions to Unitarian thinking by conferring upon him a D.D. degree. In 1936, hoping to retire before his usefulness to the community could begin to decline, he selected Raymond B. Bragg as his associate in Minneapolis. Two years later, in 1938, Dietrich formally retired and the society made him Minister Emeritus.
In 1941 he and his wife went to live in Berkeley, California. There he occasionally did some preaching and continued to ponder the evolution of religion. This led him to write to Joseph S. Laughran that his "philosophy and religion have undergone considerable, if not drastic revision. I realize now how my utter reliance upon science and reason and my contempt for any intuitive insights and intangible values which are the very essence of art and religion, was a great mistake; and the way in which I cut mankind off from all cosmic relationship was very short-sighted and arrogant."
Death
Dietrich died in his eightieth year after a long battle with cancer. A private funeral service was held at Berkeley Hills Chapel. Edwin H. Wilson, Unitarian minister and one of the founders of the American Humanist Association, who visited and talked with him shortly before his death, reported that in his last days Dietrich was beginning to study Italian and investigating Sartre's Existentialism as "a Humanism."
Mason Olds observed in his study, American Religious Humanism, that "[Dietrich's] significance as a religious thinker is based on his audacity in rethinking doctrines of the western religious tradition from the perspective of naturalistic humanism."
Sources
The Dietrich papers, including correspondence, addresses, and miscellaneous writings, are at the Minnesota Historical Society. There is a substantial unfinished manuscript, "Thoughts on God," at the Andover-Harvard Theological School in Cambridge, Massachusetts. Good sources for data on Dietrich's life are his AUA ministerial file at the Andover-Harvard Theological Library, Harvard Divinity School and Mason Olds, American Religious Humanism (Rev. ed., 1996). Olds also has an extensive bibliography of his works. See also the biography by his second wife, Margaret Carleton Winston, This Circle of Earth: The Story of John H. Dietrich (1942). Among his published works are The Humanist Pulpit (1917?), The Fathers of Evolution: and other addresses (1927), The Cooperative Movement (1933), Humanism (American Unitarian Association pamphlet #337, 1938), and Mason Olds, ed., What If the World Went Humanist? Ten Sermons (1989). Helpful studies are Charles H. Lyttle, Freedom Moves West A History of the Western Conference 1852-1952 (1952); Edwin H. Wilson, The Genesis of a Humanist Manifesto, ed. by Teresa Maciocha, (1995); William F. Schulz, Making the Manifesto: the Birth of Religious Humanism (2002); David B. Parke, "A Humanist Ministry: John H. Dietrich in Minneapolis," Kairos, (Autumn 1975); and Carl A. Storm, "John H. Dietrich—A Tribute," First Unitarian Society, Minneapolis, Minnesota, September 29, 1957. There is an obituary in the Unitarian Register (October 1957) and in the Berkeley Gazette (June 22, 1957). See also James S. Dahir, Five Contemporary Liberal Preachers, (Meadville Theological School Thesis, 1932) and entries by David M. Robinson in American National Biography (1999) and by Mark W. Harris in Historical Dictionary of Unitarian Universalism (2004).
Article by Alan Seaburg
Posted November 27, 2005