Henry Noble Couden (November 21, 1842 – August 22, 1922) was Chaplain of the United States House of Representatives for twenty-five years (1895-1921). After being blinded in a Civil War battle he returned to school to study for the Universalist ministry. He was the first chaplain to be appointed by both parties to successive terms.
Couden was born near Plymouth, Indiana to Joseph and Elizabeth (Chase) Couden. The family soon moved to Ohio and settled outside of Cincinnati near the town of Harrison where Henry spent much of his youth working on the farm. The Coudens attended Protestant Episcopal services, but Henry later converted to Universalism.
On April 16, 1861, just four days after the attack on Fort Sumter, Couden enlisted in the Sixth Ohio Volunteer Infantry, eventually rising to the rank of Sergeant. He transferred to the Mississippi Marine Brigade on April 8, 1863. He lost his rank in the move but soon was made a Corporal. During a battle at Beaver Dam Lake, Couden was wounded in the left arm and side and was hit in the face by a shotgun blast, which left him blind. After recovering from his injuries in a hospital, he was honorably discharged from the Army on July 6, 1863.
After the war, Couden spent seven years at the Ohio Institution for the Education of the Blind in Columbus, Ohio. Following this he enrolled in the Theological School at St. Lawrence University in Canton, New York to study for the Universalist ministry. His friend and roommate at St. Lawrence, George L. Perin, assisted him with his studies and later served as a Universalist minister in Boston, Massachusetts. Couden and Perin graduated in 1878. Each man would later receive an honorary Doctor of Divinity degree from St. Lawrence, Perin in 1890 and Couden in 1899.
In 1872 Couden married Melissa A. Marvin of Harrison, Ohio. She died giving birth to a son, William, in 1874. This son would also become a Universalist minister. After Couden completed his ministerial studies in 1878, he married Lydia Jane Dickinson of Amherst, Massachusetts. She had been a teacher at the Ohio Institution for the Education of the Blind when he was a student. This marriage produced two sons, Henry, Jr. and Fayette, and a daughter Jean. Lydia died giving birth to a third son, who died shortly after birth. In 1886, Couden married Harriet Dunbar of Mt. Vernon, Ohio. They remained married until Couden's death in 1922.
Couden was ordained on November 3, 1878 at the First Universalist Church of Madrid, New York. He was pastor at Madrid until 1881. He then held pulpits in Willoughby, Ohio, 1881-83; Chatham, Massachusetts,1883-91; and Port Huron, Michigan, 1891-95.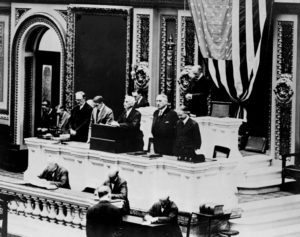 In 1895 the Republican-controlled U.S. House of Representatives chose Couden, a fellow Republican, to be its Chaplain. He was reelected by successive Houses until he retired in 1920, even those controlled by Democrats. Couden, or "The Blind Chaplain" as he was often called, was respected and admired by members on both sides of the aisle.
The Democrat-led House of the Sixty-second United States Congress, 1911-13, voted to publish a collection of the prayers which Couden delivered to begin each day. In the foreword, Speaker of the House Champ Clark, a Missouri Democrat, noted how unusual it was that a Chaplain could be elected so many times by Houses that differed with him not only in politics but also in religion. Very few Congressmen were Universalists. Clark went on to say that the "Members of the House are fond of Dr. Couden as counselor, guide, and friend, [but] they would never have ordered his prayers printed in book form were not the prayers of excellent character in both form and matter. They are full of piety, sympathy, and philanthropy. They are earnest, helpful, hopeful." This book of prayers, the first of its kind printed by Congress, is the only published work of Couden.
Couden was the only Universalist to serve as Chaplain in either house of Congress. He served for 25 years, 1895-1921. Jared Sparks and William Henry Channing, Unitarians, also served as chaplains for the U.S. House of Representatives while Unitarians Edward Everett Hale and Ulysses G. B. Pierce held the chaplain post in the Senate.
Death
When Couden retired from his post as House Chaplain in 1920, due to failing health, the House voted to make him Chaplain Emeritus and give him his full salary for the remainder of his life. Couden died in Ft. Myer, Virginia in 1922 and was buried with full military honors at Arlington National Cemetery beside his son Henry, Jr., a Spanish-American War veteran, who died in 1906. Couden's widow, Harriet, was laid to rest beside him in 1925.
Sources
Archive material for Couden is limited to government photographs held by the Prints and Photographs Division of the United States Library of Congress, Washington, D.C. The collection of prayers by Couden, Prayers Offered at the Opening of the Daily Sessions of the House of Representatives During the Sixty-second Congress of the United States (1913) is his only surviving work. It was the first collection of chaplain's prayers published by Congress. Biographical information is found in Warren D. Crandall and Isaac D. Newell, History of the ram fleet and the Mississippi marine brigade in the war for the union on the Mississippi and its tributaries (1907) and Ebenezer Hannaford, The Story of a Regiment (1868), a history of the Sixth Ohio volunteer infantry. Alice M. Walker, Historic Homes of Amherst (1905) has information on his marriage to Lydia Jane Dickinson of Amherst, Massachusetts. Couden is also mentioned in Who Was Who in America (1943), The Universalist Register, and the Univeralist Year Book. An obituary appears in the New York Times (1922).
Article by Adam Bohanan
Posted October 23, 2012