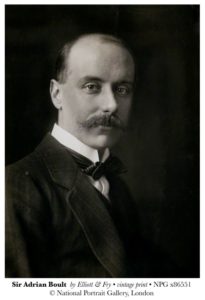 Sir Adrian Cedric Boult (April 8, 1889-February 22, 1983) was one of the foremost British conductors of his time. Well-known for his advocacy and performance of the works of twentieth-century British composers, he was equally proficient in works of the standard repertoire. He conducted the premiere performances of modern works by composers from many nations and has left many treasured recordings, including multiple performances of the complete symphonies of Johannes Brahms, Edward Elgar, and his friend Ralph Vaughan Williams.
The Boult family of Chester had been Unitarians for generations. Adrian was born there to Katherine Florence Barman and Cedric Randal Boult, an oil merchant. When he was two, the family moved to Blundellsands in Lancashire, a suburb of Liverpool. His early musical training was supervised by his mother. His family started taking him to symphony concerts when he was six. Attending Westminster School in London, 1901-08, he was able to attend many more concerts, including one in 1902, an impressive program of Wagner and Tchaikovsky conducted by the Hungarian conductor Arthur Nikisch. From that time on Boult was determined to become a conductor. A few year later his mother wrote, "It is quite evident that Adrian will never do anything that makes money . . . the only thing is to prepare him [to be a musician] thoroughly."
Toward this end, Boult attended Christ Church, Oxford, 1908-12, and the Leipzig Conservatory, 1912-13. He received his D.Mus. Degree from Oxford in 1914. By this time he was on the staff at Covent Garden and had conducted a concert, in February 1914, with members of the Hallé and Liverpool Philharmonic Orchestras. At the outbreak of World War I, because of a mild heart condition, Boult was given the conscription category C3, which meant home service. He helped to drill recruits from the Lancashire mines, served as an orderly officer in a reserve unit, translated German newspapers for the War Office, and worked for the department controlling leather resources, all the while conducting concerts in Liverpool.
A friendship with the composer Gustav Holst begun in 1916 led to Boult's conducting the premiere of The Planets in 1918. That same year Boult conducted Vaughan Williams's second symphony, "A London Symphony," and advised the composer on revisions. Vaughan Williams later dedicated the score of his ballet Job, 1931, to Boult. Arnold Bax would also dedicate his Sixth Symphony to him. Other composers with whom he formed friendships included Elgar, Hubert Parry, Arthur Bliss, and George Butterworth. The latter was killed in 1916 in the Battle of the Somme. In the wake of the war, Boult emerged as a celebrated conductor on the national scene.
From 1919 until 1930 Boult taught conducting at the Royal College of Music. During the same period, he conducted a season of the Ballets Russe, served as assistant music director at Covent Garden and music director of the Bach Choir, and directed the Birmingham Festival Choral Society and the Birmingham Orchestra. To compensate for the smaller audiences attracted to concerts featuring works by modern composers such as Mahler and Stravinsky, Boult raised money from his family and friends to make up the difference. In 1920 he began recording, on contract with EMI.
Boult believed that a conductor's first duty was to "give the hearer the impression that [the works] are being played exactly as the composer wished." He did not believe in giving idiosyncratic performances. This sometimes led him to conduct in a way that others perceived as perfunctory and passionless. But, as Vaughan Williams wrote to him in 1936, "faithfulness to the composer" was more important than passion, and frequently Boult delivered both. In 1918 Vaughan Williams wrote, "May I say how much I admired your conducting—it is real conducting—you get just what you want and know what you want—and your players trust you because they know it also."
According to the cellist Pablo Casals, Boult was one of a group of musicians who "make of music a religion." Boult defined music as "the language of God." He went on to say, "Surely it is not possible for the mystery that is music to have evolved naturally without some commanding authority." "Beneath [the best music's structure] there is a spiritual unity which seems to hold the work up," Boult wrote. "As we contemplate it, it lifts us off our feet with its ennobling power."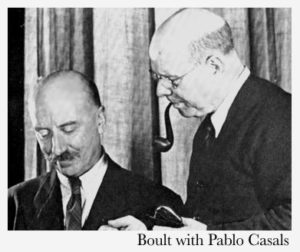 Boult's longest and most significant position was as music director of the British Broadcasting Corporation (BBC) orchestra, 1930-42, and its chief conductor, 1931-50. In addition to making over 1500 broadcasts with the orchestra, he built it into a world-class orchestra and took it on tour throughout Europe and North America. He was forced to retire, by rule, when he passed the age of 60. As the enforcement of this policy was in the hands of a new director who had some personal animus—he was the former husband of Boult's wife, Ann Bowles Wilson, whom Boult had married at Ditchling Unitarian Chapel in 1933—Boult felt that he had been dealt with shabbily. Vaughan Williams encouraged him to view that retirement as an opportunity to open up a fresh period in his career.
Following his BBC retirement, Boult went on to conduct the London Philharmonic Orchestra (LPO), 1950-59, and the City of Birmingham Symphony Orchestra, 1959-60. With the LPO he recorded a varied repertoire for the Decca and Pye Nixa labels, including arias of Johann Sebastian Bach and George Frederick Handel performed by Kathleen Ferrier and cycles of Brahms and Vaughan Williams symphonies. Between 1962 and 1966 he taught again at the Royal College of Music.
In his "Indian Summer" period, beginning in the mid-1960s, Boult served as a guest conductor for various British orchestras and began his most productive period as a recording artist. For Lyrita, a small label devoted to British composers, he made records devoted to Bax, Frank Bridge, Eric Coates, Elgar, Gerald Finzi, Holst, Herbert Howells, John Ireland, Ernest Moeran, Parry, and others. For HMV he made some of the recordings for which he is best known, including his late surveys of Brahms, Elgar, and Vaughan Williams. Nearly 90, with his energy declining and his eyesight deteriorating, he made his last public appearances as a conductor and his final recordings in 1978.
Boult conducted music at the coronation of George VI in 1937 and was in charge of music for the 1953 coronation of Elizabeth II. He was honored with knighthood in 1937 and made a Companion of Honour in 1969. He also received numerous honorary degrees. A believer in the unity of nations, he was a delegate to the Congress of Europe in 1948.
Boult was connected with the Wirral Unitarian Church, Birkenhead. He spoke or officiated at Unitarian church ceremonies. He continued the family tradition of supporting Unitarian charities and was a patron of the Glasgow Unitarian Youth Orchestra. His religion seems to have been a mixture of a broad church Unitarianism and the power of music.
Death
When Boult died, there was no funeral as he had willed his body to science. But a memorial concert was given by the BBC Symphony Orchestra and in 1984 a memorial stone was placed in Westminster Abbey near the graves of Henry Purcell, Handel, and Vaughan Williams.
Sources
Sir Adrian Boult wrote The Point of the Stick: A Handbook on the Technique of Conducting (1922, rev. ed. 1968), The St. Matthew Passion: its preparation and performance (1949, with Walter Emery), and Thoughts on Conducting (1963). His autobiography is My Own Trumpet (1973). An anthology of his writing is Martin Anderson, ed., Boult on Music (1983). For letters, see J. N. Moore, ed., Music and Friends: Seven Decades of Letters to Adrian Boult (1979) and Hugh Cobbe, ed., Letters of Ralph Vaughan Williams (2008). The standard biography is Michael Kennedy, Adrian Boult (1987). See also Philip Clark, "Sir Adrian Boult, new music champion," Gramophone (January 2013) and Jenny Doctor, "Vaughan Williams, Boult, and the BBC," in Alain Frogley and Aidan J. Thomson, eds., The Cambridge Companion to Vaughan Williams (2013), which includes a bibliography of the Boult BBC archives. For a list of Boult's recordings, see Alan Sanders, Sir Adrian Boult, a Discography (1980). Boult's EMI recordings have recently been re-released in four box set editions. Many of his Decca, Pye Nixa, and Lyrita recordings can be found on CD or can be downloaded on the internet. There is a BBC DVD of Boult conducting Vaughan Williams's Job.
Article by Peter Hughes
Posted December 26, 2014