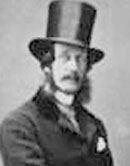 Henry Bergh (August 29, 1811-March 12, 1888) was the founder of the American Society for the Prevention of Cruelty to Animals (ASPCA) and was instrumental in the founding of the American Society for the Prevention of Cruelty to Children. He was the first to successfully challenge the prevailing view that both animals and children were property with no rights of their own. Because of him, it is now accepted that abuse of animals and children is an offense to both human sensibility and established law.
Henry was born to wealth in New York City. His parents were Elizabeth Ivers and Christian Bergh, a ship builder who was for a time employed by the government. He attended Columbia College in New York, but did not complete a degree. Instead he traveled to Europe, 1831-36, where he dabbled in the arts and attempted a career in writing. In 1836 he married Catherine Matilda (nee Taylor). Henry and his brother, Christian Jr., took over the family business upon the retirement of their father. After his father's death in 1843, Henry cashed in his inheritance, became a man of privileged leisure, and moved with his wife to Europe, where he wrote several unsuccessful plays.
In 1863 President Abraham Lincoln appointed him to the American Legation at the court of Czar Alexander II in Russia. While in Russia, Bergh witnessed commonplace abuse of animals. His experience in Russia, and related incidents in other European countries, heightened Bergh's sensitivity and compassion. In 1865, en route back to the United States, Bergh stopped in London to consult with the Earl of Harrowby, president of the Royal Society for the Prevention of Cruelty to Animals.
Animals were routinely abused and neglected in America at the time. Horses, a major source of conveyance, were starved, denied regular watering, beaten, and no concessions were made them for extremes of weather. Mules and horses were typically released into the streets to starve after judged no longer fit for service. Domestic animals were often not given regular food or shelter and were subject to physical abuse. Dogfights, cockfights, and bear-baiting were common forms of entertainment.
Bergh used his wealth and prestige to raise public awareness of the suffering of animals and to enlist support from powerful New York businessmen, politicians, and religious leaders in the founding of the ASPCA. Among these was his minister, Henry Whitney Bellows of the First Congregational Church of New York City (now the Unitarian Church of All Souls). In 1866 Bergh gave a lecture at Clinton Hall in New York citing statistics and examples relating to animal abuse. This was the inception of the American Society. Laws granting a charter for the society and punishing cruelty to animals were passed by the State of New York two months later. When asked about the founding of the ASPCA, Bergh commented, "This is a matter purely of conscience; it has no perplexing side issues. It is a moral question in all its aspects."
Bergh, realizing that the ASPCA could not be run as a solely male organization, asked Bellows to provide names of women as potential patrons. This increased Unitarian support for his work. On the other hand, because of the mistreatment and mishandling of animals in P. T. Barnum's circus acts, Bergh initially had an adversarial relationship with the Universalist showman. Nevertheless Bergh eventually won Barnum over to the cause.
President of the ASPCA from 1866 until his death, Bergh daily intervened on behalf of mistreated animals on the streets of New York. Wearing a special badge, he arrested and prosecuted violators of the state anti-cruelty laws. An early entry in the ASPCA annals: "New York City, April 1866: The driver of a cart laden with coal is whipping his horse. Passersby . . . stop to gawk not so much at the weak, emaciated equine, but at the tall man, elegant in top hat and spats, who is explaining to the driver that it is now against the law to beat one's animal. Thus, America first encounters 'The Great Meddler.'"
With the help of his legal counsel, Elbridge Gerry, Bergh got the federal government to ban cruelty to animals used for interstate transportation. He also made lecture tours outside New York State, which inspired the foundation of a number of local anti-cruelty societies.
Bergh once noted that "Mercy to animals means mercy to mankind." This idea led him to work for better conditions for humans as well. Through the intervention of Methodist mission worker, Etta Angell Wheeler, he was introduced to the suffering of a child, Mary Ellen Wilson. Mary Ellen had endured extreme physical and mental abuse in her foster home. Friends of Wheeler suggested that she seek Bergh's assistance and support. Claiming at the court hearing that his advocacy was "that of a human citizen," he was instrumental removing Wilson from her abusive home. In New York City in 1875 he and Gerry co-founded the American Society for the Prevention of Cruelty to Children.
Death
After long years of witness and action against cruelty, Bergh died in 1888. He is buried in Green Wood Cemetery, Brooklyn, New York. In extending concern for all living beings, Bergh anticipated the Seventh Principle of the Unitarian Universalist Association: "Respect for the interdependent web of all existence of which we are a part."
Sources
Bergh's correspondence can be found at the New York Historical Society and in the archives of the ASPCA in New York City. There are some papers bearing on Bergh in the archives of All Souls Unitarian Church in New York City. There is a recent bography, Mildred Mastin Pace, Friend of Animals: The Story of Henry Bergh (1995). For Bergh's connection with Unitarianism, see Walter Donald Kring, Henry Whitney Bellows (1979). There are web articles on Bergh at sites sponsored by various humane societies: "ASPCA History: 'Regarding Henry'" at www.aspca.org; "The Real Story of Mary Ellen Wilson" at www.americanhumane.org"; and "Our History and Henry Bergh" at www.wihumane.org. There is an entry by Elizabeth Pleck in American National Biography (1999).
Article by Mark Ferguson
Posted April 22, 2007