The journalist, historian, novelist, Henry Brooks Adams ( February 16, 1838-March 27, 1918) was the son of Civil War diplomat Charles Francis Adams and Abigail Brooks Adams. His grandfather, John Quincy Adams was the sixth President of the United States.
Henry Adams was christened by his uncle Nathaniel Langdon Frothingham, minister of Boston's First Unitarian Church. His formal education began in Boston, Massachusetts and continued in rural Quincy and at the Boston Latin school. He graduated from Harvard where he had family connections. His grandfather had taught rhetoric, his father was a board member, and his uncle Edward Everett had been president. Most Harvard faculty members, at that time, were Unitarian. After graduation in 1858, Henry went to Germany to study law but had problems with the language so he decided to travel instead. During his two years in Europe he interviewed Garibaldi in revolutionary Italy and he wrote newspaper articles as a correspondent for the Boston Courier.
He returned to Boston on the eve of the Civil War in 1860 and tried to study law with Judge Horace Gray. His congressman father rescued him by making him his secretary. Henry continued his newspaper reporting, writing anonymously for the Boston Advertiser. When Congressman Adams was appointed United States Ambassador to England, Henry served as his father's official secretary. For a while he sent news dispatches to the New York Times but stopped, fearing he would be discovered and charged with conflict of interest. The Adams' Unitarian acquaintances in England were: Charles Dickens, Harriet Martineau, and geologist Sir Charles Lyell. He reviewed Lyell;s Principles of Geology for the North American Review. Henry was in England for the duration of the Civil War.
Returning to the United States, Henry Adams took up journalism and political reform. Articles he wrote appeared in the recently founded Nation and the New York Post. He advocated revenue reform and associated with those who had similar concerns in Washington. His hopes for President Grant were disappointed. Although disappointed politically, he enjoyed the informal Capitol life. The Edinburgh Review published his articles about corruption bringing him public attention.
Harvard reform President Charles W. Eliot appointed him assistant professor of medieval history in 1870. He usually socialized with younger Cambridge men, John Fiske, and Oliver Wendell Holmes, Jr., but he also visited the Ephraim Gurney household. There he renewed his acquaintance with Miss Marian Hooper, also known as Clover. Her sister was the wife of Harvard Dean Ephraim Gurney. It was Gurney who later hired Adams as North American Review editor.
Adams had met his future wife Marian Hooper (September 13, 1843-December 6, 1885), in 1866 when she was traveling in England with her father ophthalmologist Robert William Hooper. Her mother Ellen Sturgis Hooper, had been a minor poet and Transcendentalist. The Hoopers devoted themselves to philanthropy, art, and the education of their three children. Marian studied at Elizabeth Cary Agassiz's Cambridge school. Dr. Hooper owned a King's Chapel pew, while his wife attended James Freeman Clarke's radically experimental Church of the Disciples, Boston. Marian's grandparents entertained Emerson, and her mother and Aunt Caroline attended Margaret Fuller's 1839 Conversations. They also contributed poetry to the Dial, the Transcendentalist journal. Clovers mother wrote "Dry Lighted Soul," dedicated to Ralph Waldo Emerson.
Henry and Marian were married on June 27, 1872 at the Hooper home in Beverly, Massachusetts by Rev. Charles Edward Grinnell (1841-1916), an 1865 Harvard Divinity School graduate. Adams called Grinnell "a jolly young fellow of our set." Traveling to Europe following their wedding, they visited Henry's father in Geneva where he was negotiating Civil War claims with the British. Henry and Clover proceeded to Berlin where her Unitarian cousin George Bancroft, U.S. Minister to Germany, introduced him to European historians and legal scholars.
Returning home after their honeymoon, Henry resumed his duties at Harvard in 1873. He was one of the first professors to teach using seminars. His Documents Relating to New England Federalism (1877), two biographies, John Randolph (1884) and The Life of Albert Gallitin (1879), and the nine volume History of the United States During the Administrations of Jefferson and Madison (1889-91) grew out of his graduate courses. His theme was the growth of America. The steamboat represented American power, as the dynamo would come symbolize a latter era. Chaffing at narrow academic life and clashing with the North American Review staff, he resigned his posts in 1877 and moved to Washington, D.C. to concentrate on writing.
Marian Hooper Adams was reared a Unitarian but became skeptical in later life. She was always loyal to Emersonian naturalism and never lost her social conscience. She was concerned for Native Americans and she was involved in her family's work with the Freedmans Bureau providing education for freed slaves. She said she wanted "to overcome prejudices," but she often expressed contradictory preferences. She liked Italians compared to Germany's "beer-drinking warriors." She liked the Spanish while overlooking the social decay and corruption in Spain. She helped Henry with his writing but lacked ways to express her social concerns after their move to Washington, D.C. Clover was also a feminist. She and her cousin Elizabeth Bancroft shared an interest in the unconventional author George Sand. Although Henry favored education for women he questioned their abilities. Nevertheless, Clover studied Greek and Portuguese and backed her sister's efforts to establish the Harvard annex that became Radcliffe. Clover softened Henry's view of women and education. She was eager when women could vote for the first time in the 1879 school committee elections.
Clover's Lafayette Square salon, across from the White House made her famous. John Hay, former Lincoln secretary and diplomat; Hay's wife Clara; and Clarence King, a geologist; made up their circle of friends known as the "Five of Hearts." Mrs. Adams other interests included riding and portrait photography. She worked with photographic chemicals and darkrooms, processing her own pictures. She photographed her husband's parents and her portraits of Lincoln's biographer John Hay and historian George Bancroft were significant. Although the Adamses didn't have children, she was a loving aunt to her five nieces, writing them stories, building them playhouses, and caring for them. Henry always had toys for little visitors.
Clover Adams was a literary model for her husband and for Henry James, a member of their Washington, D.C. circle. James shared Clover Adams Transcendentalist heritage. His Portrait of a Lady (1881) followed a visit with the Adamses. Protagonist Isabella Archer shares much of Clover's personality. The despicable Gilbert Osmond characterizes Isabella saying, ". . . her sentiments were worthy of a radical newspaper or a Unitarian preacher."
In addition to his historical writing, Henry Adams produced two novels, Democracy (1880) and Esther (1884). Like his wife Clover, the widowed Madeline Lee in Democracy, arrives in Washington, D.C. after a life of philanthropy. She organized a salon like Mrs. Adams. Writting under the name of Francis Snow Compton, he portrayed his wife again in Esther. He finished the book just before Clover's death. Instead of the political corruption of Democracy, the novel concerns religion and its clash with science.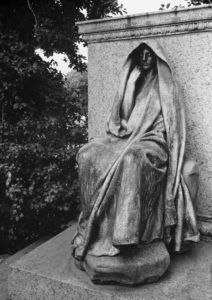 Clover took her own life by swallowing photographic chemicals on December 6, 1885, a few months after her father died. Her family sent for Unitarian minister Edward Hall, and she was interred in Rock Creek cemetery. There may have been a hereditary basis for her death. Even by the standards of upper class society her family was inbred. Her aunt died by her own hand. Her brother and sisters all attempted suicide.
They had planned to go to Japan together after the first half of his monumental history of the Jefferson and Madison years was finished. As a tribute to her memory, he made the trip with his friend, artist John LaFarge as his traveling companion. Before leaving, he chose Augustus Saint-Gaudens, whose work Clover appreciated, to create an enigmatic memorial bronze sculpture in Rock Creek Cemetery where she was buried.
He went to the Polynesian islands in 1890, and in Samoa, he met Robert Louis Stevenson who sent him to Tahiti with an introduction to the pretender to the leadership of the Teva clan, Tati Salman. They adopted Adams and John Lafarge into their clan, which also had ethnic Jewish members. Adams recorded the memoirs and genealogy of Tati's sister, the divorced former Tahitian Queen. Proceeding on toward Europe, Adams and LaFarge stopped in Ceylon, now Sri Lanka, where under a descendant of Buddha's Bo Tree, Adams meditated for a half hour. Skeptically he said he left "without attaining Buddhaship." Like other Bostonians and their contemporary Unitarian counterparts, however, he felt the lure of the East.
Even with much traveling, Adams finished his South Sea Memoirs of Marau Taaroa, Last Queen of Tahiti (1893). It documented Imperialist damage to native people. He did not include this period in his Education of Henry Adams. The American Historical Association chose him president in absentia at their 1894 meeting, the same meeting where Frederick Jackson Turner read his famous paper on the frontier theory.
Following the financial catastrophe of 1893 Adams had to help straighten out family affairs. He entered into dark speculations with his brother Brooks Adams about the Dreyfus affair and other international plots. In a limited number of his very private letters he made the word "Jew" synonymous with bankers and captialists. He echoed British and American populist rhetoric. Earlier as a historian, however, he had thought Jews were slighted. The historians's sister Louisa had married Charles Kuhn, a Jew, and they got on well together. During their marriage, the Adamses had Jewish friends. In his youth, Adams tried to use his connections to help an American Jewish family who were badly treated in their native Germany. He even imitated Disraeli's political novels. Also in the 1890's, he sympathized with secular Jews including Elsie de Wolfe, his "niece in wish." He also became good friends with Bernard Berenson, the art critic. He characterized Edouard Drumont's views as "anti-semitic ravings." He finally said that he was undecided about the Dreyfus case. While deeply worried about the threat to France from the Dreyfus scandal, he genuinely desired justice. He also backed away from his conspiratorial theories after a good deal of research. He remained, however, anti-capitalist. His greatest fury was reserved for French anti-Semites and he was prepared to join the anarchists in their attack on them. During the same time, he feared tropical people would overwhelm the northern hemisphere, although he had written sympathetically about the Tahitians and championed the cause of Cuba. He did not discuss this period in his Education of Henry Adams. He was a complex human being. Privately, and in a limited way he had used very, injudicious language.
Adams visited Cuba in 1894. Sympathy for the Cuban people led him to support the Cuban revolution. Cuban exiles met at the historian's home across from the White House and planned delivery of arms and supplies. In a paper he wrote for the Senate Foreign Relations Committee, he encouraged United States intervention. After President McKinley's assassination, Theodore Roosevelt invited him to the White House. The new Secretary of State, his friend John Hay, conferred with Henry and filled the Adams' house with dignitaries. History remembers Hay, Lincoln's Secretary and Secretary of State (1898-1905) as the architect of the Open Door Policy and the Hay-Pauncefote Treaty authorizing a Central American canal. By the turn of the century, however, he was an anti-imperialist ready to free the Philippines. As the new century began he feared Russia and Germany.
Disgusted by the present, Henry retreated into medieval study. He loved the French cathedrals and their windows. In his Mont Saint Michele and Chartres: A Study of Thirteenth-Century Unity Uncle Henry guides his imaginary nieces through three centuries of the middle ages. Adams chose the thirteenth century to measure his fin de siecle world. He gave privately printed copies of Mont Saint Michele and Chartres as New Year gifts in 1905.
The church and devotion to the Virgin unified the medieval period, but where was continuity in his own time and what was the direction of history? He considered these questions in his next works. The Education of Henry Adams (1918) was privately printed and sent to friends. He had not mentioned Clover at all. Adams lived from the oil lamp era, through the Civil War and into the era of electricity, x-rays, and radium. He contrasted his time with the medieval age in the chapter "The Dynamo and the Virgin" in The Education of Henry Adams. Electricity and the great dynamos that generated it at the World's Fairs captured his imagination. As he saw it, in the Middle Ages people had worshiped the Virgin and were devoted to her churches while twentieth century people worshiped the humming machines. Instead of uniting people, however, this twentieth century worship divided them. He developed an historical theory of devolution in the final chapters of his biography. He longed for the "laws of Nature and Nature's God" to guarantee the course of morals and good government.
Henry Adams literary work continued through his final years. When his friend Secretary of State Hay died, Adams edited his letters and published them in 1908. In July, Adams had a stroke in Paris; that November he drew up his will instructing that he should be buried in an unmarked grave near Clover. Dissatisfied with the "Dynamic Theory of History" in his The Education of Henry Adams, he sent two papers, "Rule of Phase Applied to History" in 1909, and "Letter to American Teachers of History" in 1910 to his colleagues. Unlike the Darwinists whom he read after the Civil War, Adams proposed a law of social decay. In spite of the elaborate mathematics in these papers, however, his arguments were mostly supported by analogies. He complained to Brooks about his critics saying, "The fools begin at once to discuss whether the theory was true." Following the death of his young friend, poet George Cabot Lodge, he published a short biography of the poet in 1911. In spite of his dark mood Adams continued to read and supported archeological excavations and the search for prehistoric humans in the French Dordogne caves.
In 1912 the Titanic sank. Adams, who had booked tickets for its first return voyage from New York to England was shaken. Shortly after returning home to Washington, D. C., he had a stroke but in spite of his gloom and frustration with William Howard Taft's administration, he recovered. The next year Adams finally published a commercial edition of Mont Saint-Michel and Chartres (1913).
Just before the Great War, Henry was in France with his nieces looking for medieval songs. When war came, he gathered them and managed the last trains and boats out of France. Returning to the United States, he even made a last return to Beverly Farms to his 1876 house abandoned after Clover's death. He reflected, "Behind all the killing comes the great question of what our civilization is to do next."
Death
Toward the end of his life he said that "Unitarian mystic" best described his religious views. He returned home to Washington, D.C. Where he died on March 27, 1918. He was buried with Clover in a grave unmarked except by the famous statue he had commissioned. In 1919, he received the Pulitzer Prize posthumously for The Education of Henry Adams. The same year his brother Brooks Adams saw Henry's last papers through the press as Degradation of the Democratic Dogma.
Sources
The principal archival repository for the Adams family is the Massachusetts Historical Society in Boston, Massachusetts. Some letters of Henry Adams are in the South Caroliniana Library at the University of South Carolina in Columbia, South Carolina. Material relating to the family and Harvard can be found at the Harvard University Archives in Cambridge, Massachusetts. In addition to the books by Henry Brooks Adams mentioned in the text, a number of collections of letters are available including: Henry Adams and His Friends: A Collection of His Unpublished Letters, ed. Harold Dean Cater, (1970); Letters of Henry Adams 1858-1891, ed. Worthington Chauncey Ford, (1930); and Letters of Henry Adams 1892-1918, ed. Worthington Chauncey Ford (1938). A collection of shorter pieces are in Edward Chalfant, Sketches for the "North American Review," (1986). A bibliography of Henry Brooks Adams works can be found in Charles Vandersee, "Henry Adams: Archives and Microfilm," Resources for American Literary Studies (1979).
His autobiography, The Education of Henry Adams (1918) is to some extent fictional, a better history than biography. Edward Chalfant and Ernest Samuels, two leading Henry Adams scholars, have written a number of books on Adams. For extended biographical coverage consult the three volume biography by Edward Chalfant, Both Sides of the Ocean A Biography of Henry Adams: His First Life 1838-1862, (1982); Biography of Henry Adams: His Second Life 1862-1891, (1994); and Improvement of the World: His Last Life, 1891-1918 (2001). Another three volume biography is Ernest Samuels, Henry Adams: The Young Henry Adams, (1967); Henry Adams: The Middle Years, (1958); and The Major Phase, (1964). For coverage of his Washington, D.C. Years see Patricia O'Toole, The Five of Hearts: An Intimate Portrait of Henry Adams and His Friends, 1880-1918 (1990).
For more on Marian Hooper Adams see Natalie Dykstra, Clover Adams: A Gilded and Heartbreaking Life (2012); Eugenia Kaledin, The Education of Mrs. Henry Adams, (1981); and Ernest Samuels, "Marian Hooper Adams" in Notable American Women 1607-1950, ed. Edward T. James, (1971). Letters by Marion Hooper Adams can be found in, The Letters of Mrs. Henry Adams, ed. Ward Thoron (1936). A critical appraisal of Henry Brooks Adams as a writer and historian is found in Gary Wills, Henry Adams and the Making of America (2005). A history that explores the relationships among the extended Adams family is Francis Russell, Adams, an American Dynasty (1976).
Article by Wesley V. Hromatko, D.Min.
Posted March 28, 2012